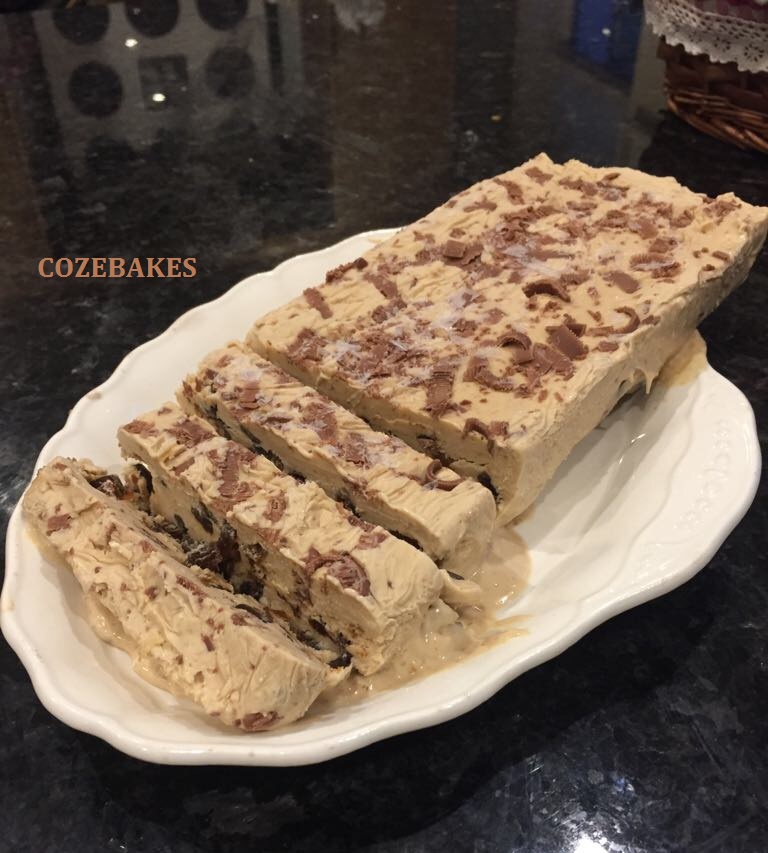 An easy, no churn ice cream recipe that's full of the excellent combination of rum and raisins with the added twist of orange zest and chocolate. Top with some chocolate curls and cool down in style!
Make this recipe in a 1lb loaf tin or your own plastic container, I guessed at a 2lb size but it's too big. Don't worry about the rum being strong flavoured as it's heated with the raisins so you tone it down a bit (but not too much 😉 )
Oh excuse the pictures! The end product photo was left in my eldest son's hands and his artistic abilities are somewhat limited ….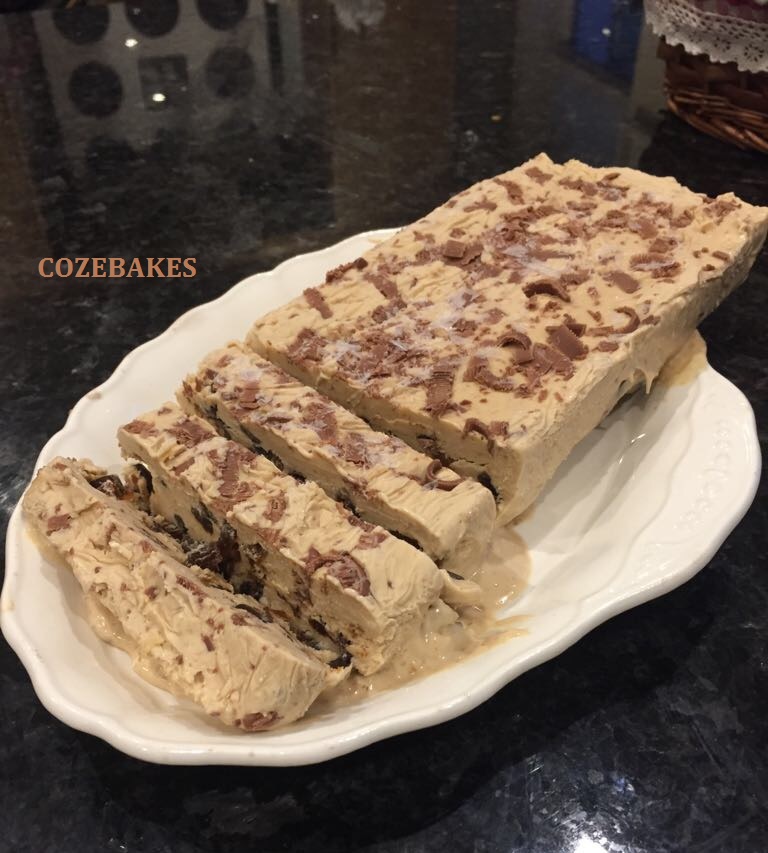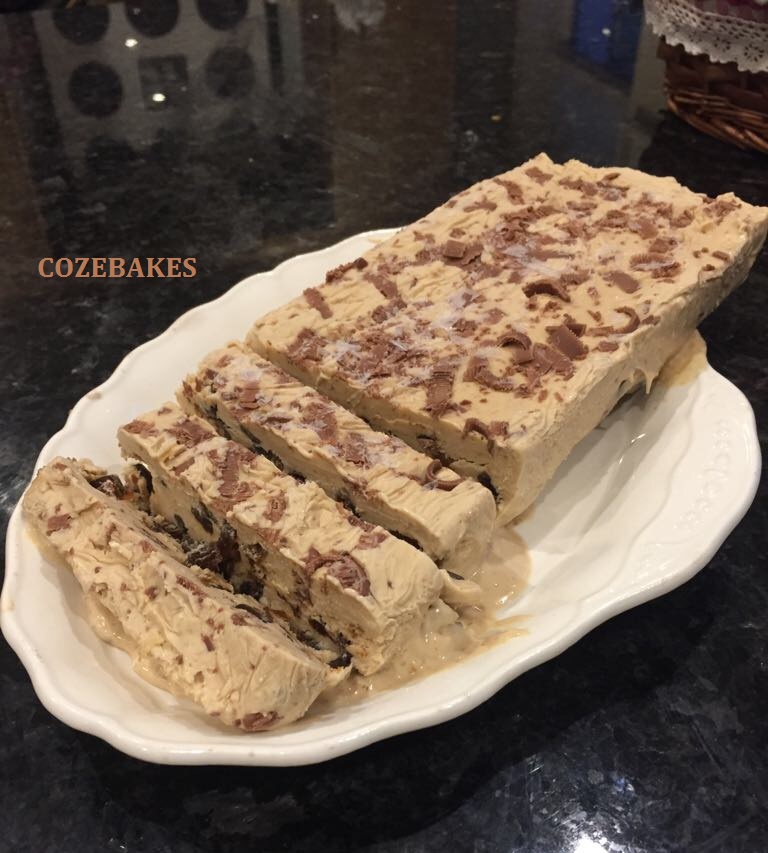 I've converted the ingredients from US cups to metric to make it easier. I lined my tin with cling film for easy removal or you could also use parchment.
You need to leave this in the freezer overnight so plan ahead.
Ingredients:
40g raisins
40g sultanas
100ml rum
Zest of a large orange
1/4 tsp salt
150ml condensed milk
400ml double cream
55g dark chocolate chips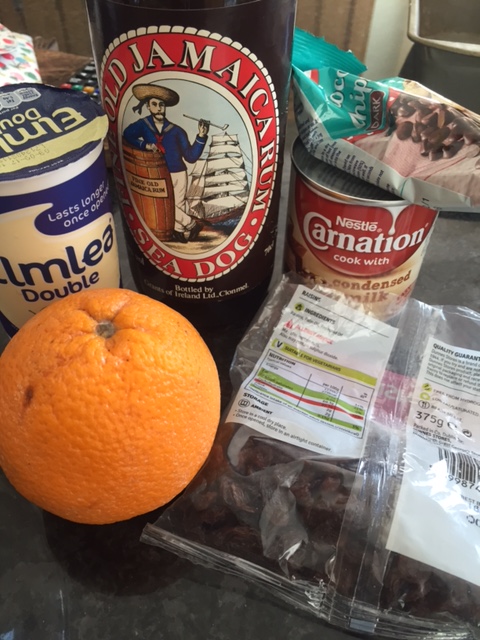 Method:
Place both types of raisins, the rum and orange zest in a small pot and bring to a boil;  reduce the heat to a slight simmer and cook until liquid is reduced in half (approx.), about 1-2 minutes. Remove from the heat and let cool for a couple of minutes.
In a large bowl, whisk together the condensed milk, a tablespoon of the reduced rum & raisin liquid and the salt. I used a good hand whisk.
In a medium bowl, beat the double cream with an electric mixer until stiff peaks form, about 3 minutes. With a rubber spatula, gently fold whipped cream into the condensed milk mixture. Fold in the raisins and the chocolate chips.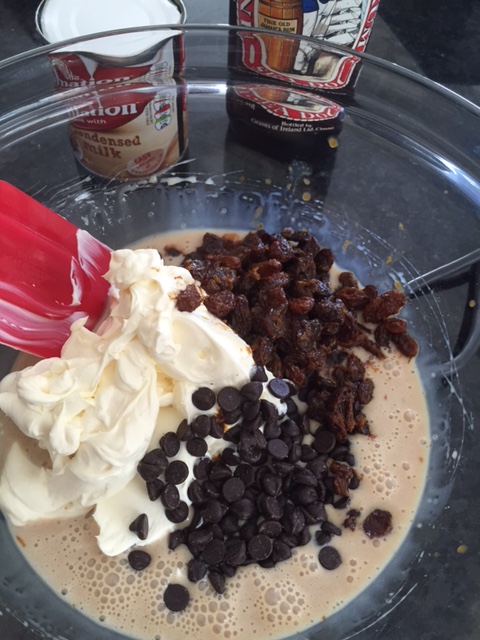 Transfer to the prepared tin. Add some shaved chocolate over the top, if you like. I use a potato peeler on very cold chocolate to achieve this. Cover tightly with cling film and freeze until firm, at least 12 hours and preferably overnight.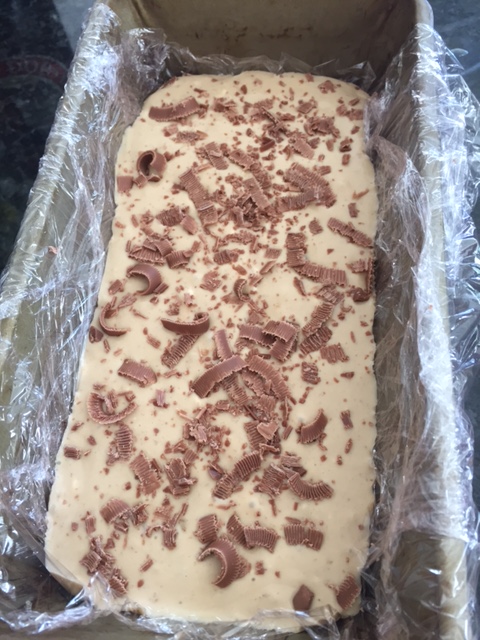 Remove when ready to serve. Lift out using the cling film and enjoy!
Soraya – cozebakes x