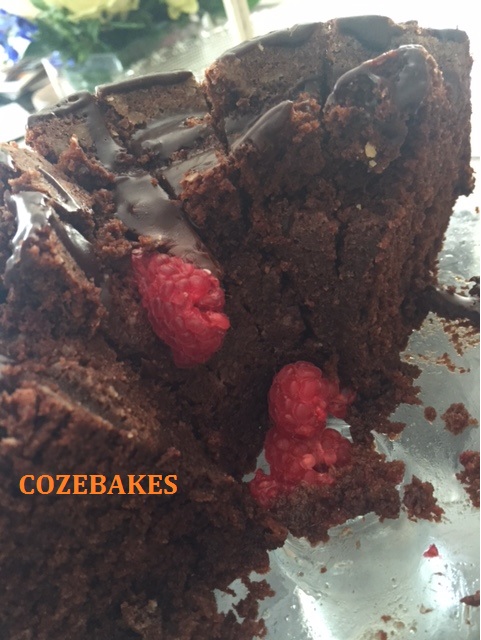 This really is the ultimate decadent chocolate cake and truly fit for a special occasion. The chocolate ganache covering just lifts it up from a chocolate cake to another platform of chocolate heaven!
It's actually easier to make than the finished product looks. It was my first time using my Nordic Ware very fancy bundt tin and I learnt a few things along the way which I'll outline in the method so you have a perfect result.
This particular type of bundt tin has very sharp edges and just needs a little bit of pre baking love to have a perfect result. I had a few of the narrowest bits stay behind in the tin but I know what I did wrong and that's why I try out each and every recipe first before putting them up here. I filled the centre of my cake with fresh raspberries, both as a cover up (sneaky) and also because I really like the contrast of chocolate and raspberries.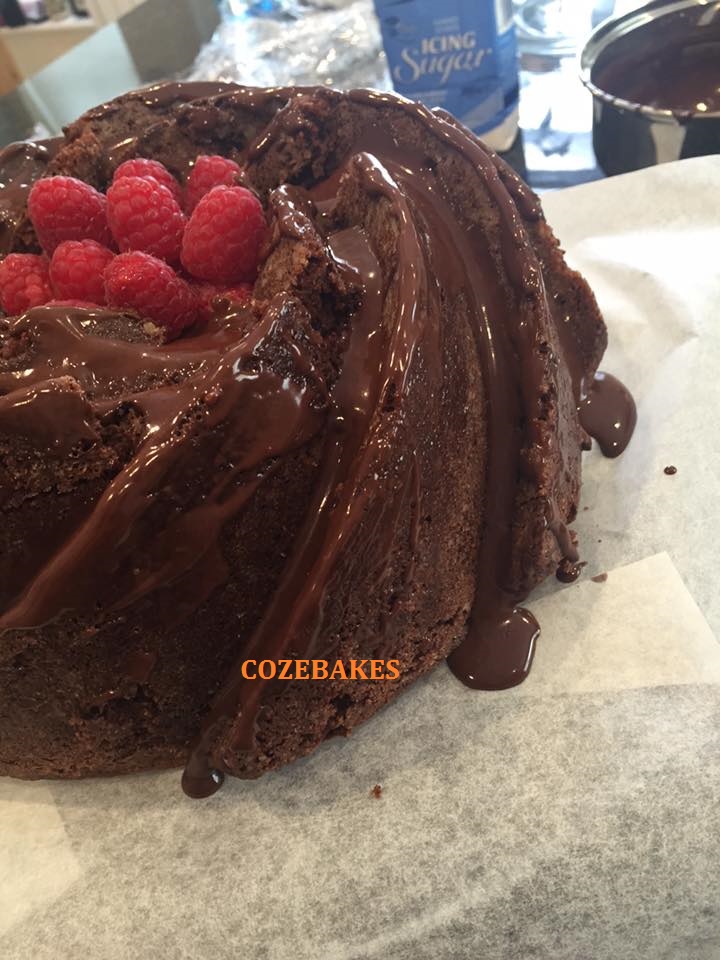 Originally from Delicious Magazine, this recipe used soured cream but I didn't have any so substituted it with fromage frais and it worked perfectly. I also added 30g of icing sugar to the ganache once it came off the heat as I felt it just needed a teeny bit of sweetness to take away the very sharp taste of dark chocolate.
The tin I used is a 2.4 litre bundt tin from Nordic Ware. If you're unsure of what size your bundt tin is, just measure how much water you can put in and you will have an answer.
The first thing is to prepare the tin. Using soft butter and your hands (or if you really don't want to do this, use a pastry brush), get right into every corner of the tin. Be generous with the butter and do it carefully otherwise like me, you will have bits left behind when you turn it out and it's actually heartbreaking! Don't be tempted to use a non stick spray or flour, it won't work (take my word for this!).
Ingredients:
200g unsalted butter, softened
300g plain flour
1 tsp baking powder
1/2 tsp bicarbonate of soda
1/2 tsp salt
100g dark chocolate (70% cocoa preferably) roughly chopped
1 tsp vanilla extract
160ml sour cream (see note above)
55g cocoa powder
400g caster sugar**
3 medium eggs, room temperature
** Okay, I could not put 400g of caster sugar into this cake or anything else. It just goes against everything I try to achieve in my baking and general cooking. I used 250g (still a lot but as the cake is substantial, feeds 12/14 people and it's spread out and that was my reasoning). The cake turned out really lovely without that very sweet taste you can get sometimes.
Method for the Cake:
Sift the flour, baking powder, bicarbonate of soda and salt into a large bowl.
Melt the chocolate either in a pan over simmering water or in short bursts in the microwave. Once melted, take off the heat or let cool for a minute and sift in the cocoa powder. Add the vanilla extract, sour cream and 80ml boiling water and stir well to a smooth, thick paste.
In another bowl, cream together the butter and sugar until pale and fluffy. Add the eggs, one at a time and beat well after each addition. Stir in the chocolate paste mixture and stir well until completely combined. Just don't over do it here. Fold in the flour mixture. I always use a large metal spoon so I don't lose the air I've beaten in.
Using a scoop or spoon, dollop the mixture all around the bundt tin and smooth the top. I gave it a bang a few times on the worktop just to settle everything into every little nook of the tin.
The original recipes states 45 minutes but it's never going to be baked in that time. Mine took 55 minutes and the skewer then came out clean. Leave it to cool in the tin for about 15 minutes and then turn out the cake onto a wire rack and let it cool completely.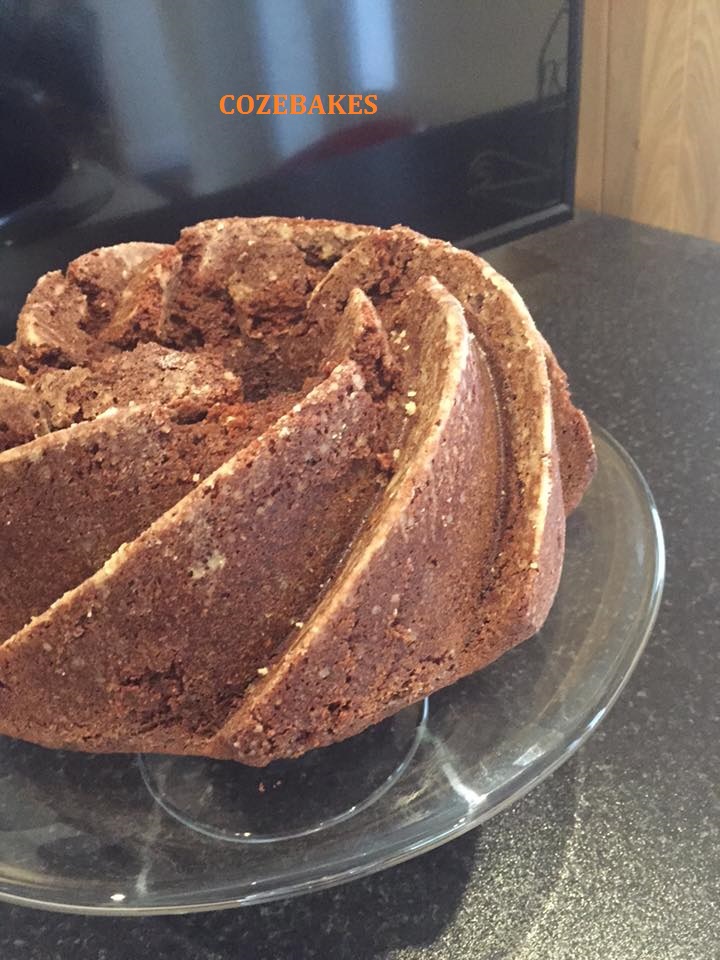 Ganache Ingredients:
150ml double cream
70g dark chocolate (70% cocoa solids) roughly chopped
To make Ganache:
Heat the cream in a small saucepan until it just comes to a simmer and then remove it from the heat and add the chopped chocolate. Leave it to sit for 1 minute so the hot cream has a chance to start melting the chocolate a little bit. Stir then until the chocolate has totally melted and the mixture is really smooth and shiny. I added 30g of sifted icing sugar at this stage and mixed it well. Pour this ganache over the cooled bundt cake and leave it to set. Don't put it into the fridge. Room temperature will set it perfectly and keep the shine.
You can also serve the ganache in a separate jug while it's still warm. Your choice!
I added fresh raspberries into the centre circle of the cake just to add a contrast of colour and taste.
Bake with love
Soraya x