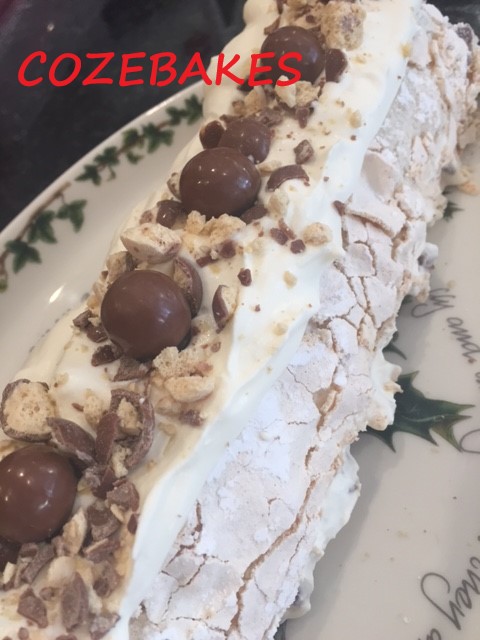 A great dessert recipe that's always a big hit any time of the year and this one uses ground almonds which gives it a really nice texture. It's so easily adaptable to any flavours you like and also for each season and your imagination is all that will stop you!
A meringue roulade is much quicker than it's cousin the Pavlova and can be made on the day it's needed. It takes about 20 minutes to get into the oven, 30/35 to bake and the same to cool and then you can keep it wrapped in the fridge till needed or dress up for serving.  I've never known anyone to refuse a slice of roulade when presented, so it's a great one to have in your baking repertoire. Please don't be worried about rolling it. It's far more difficult in your head than in reality!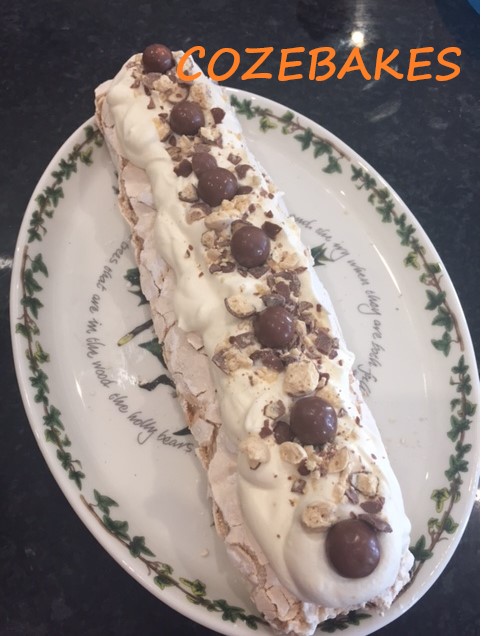 This recipe will serve about 7/8 people with generous slices. It's a delicious chewy meringue with crushed Maltesers and cream in the centre, topped with some extra cream and Maltesers.
You can of course fill with anything you like. Lemon curd and cream, strawberries, raspberries, kiwi, peaches … you get the idea 🙂
Ingredients:
4 large egg whites
225g caster sugar
1 tsp vanilla extract (if you prefer, you can use almond extract)
1 tsp white wine vinegar
50g ground almonds
For the filling and topping:
300ml whipped cream
1-2 tbsp. icing sugar (optional)
Decorations of your choice (I used 3 bags of Maltesers for this. I kept 7 aside and crushed the rest for the filling and to sprinkle on top)
Method:
Preheat oven to 190C / 170C Fan / Gas 5. Line a swiss roll tin (approx. 23cm x 30cm) with baking parchment. It doesn't have to be exactly this size. In and around will do. I cut out my parchment and have it ready to use. Once I've whisked up the egg whites, I use some of it to secure the parchment to the tin so nothing slips or slides.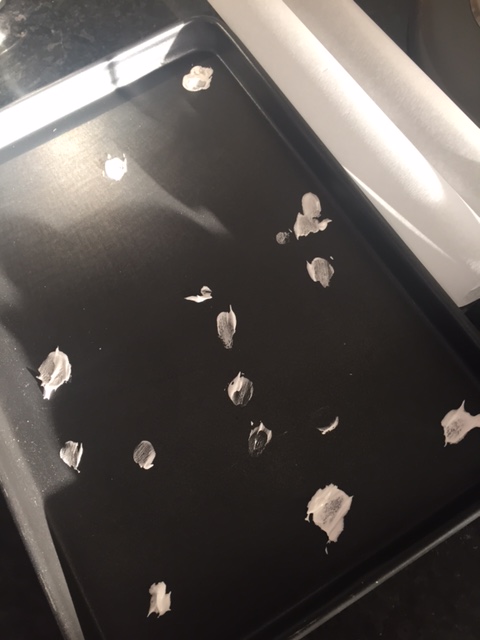 Pour some boiling water into your bowl first to remove any traces of grease. Dry well and then whisk the egg whites until stiff but not completely dry. Slowly add the caster sugar while you're still whisking until the mixture is stiff and glossy. I use a dessert spoon to add the sugar.
Fold in the vanilla extract, the white wine vinegar and ground almonds until they are incorporated. You don't have to overwork the mixture here, just get the ground almonds dispersed through the egg white mixture.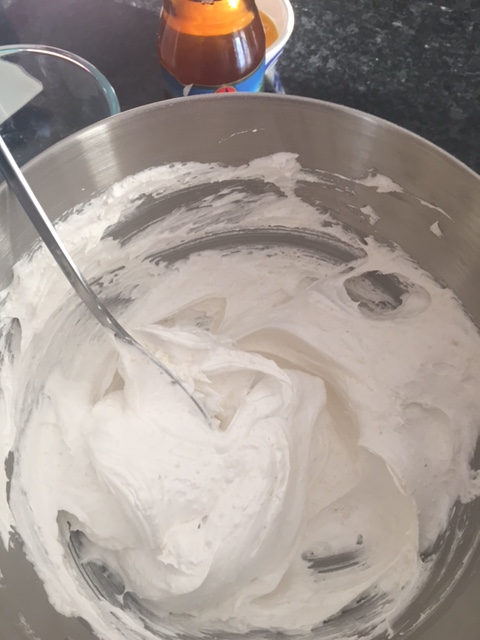 Transfer the mixture into the prepared tin and smooth over. You can tap it gently to remove any air bubbles and try to get it as even as possible. The back of a large metal serving spoon is handy for this.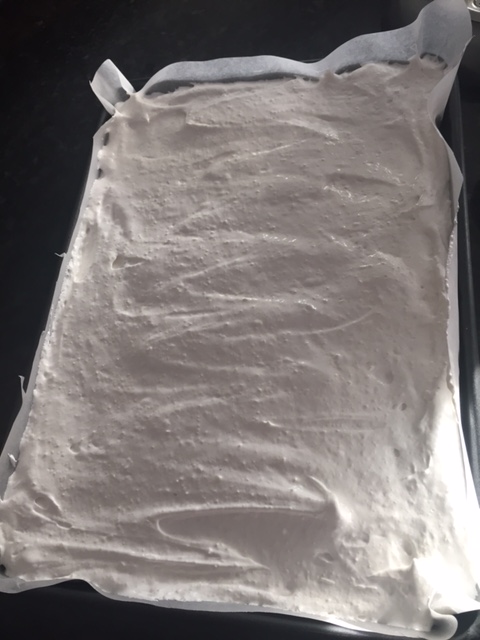 Bake for 30 – 35 minutes or until the top is golden and feel set. Remove from the oven, cover with a clean piece of parchment and a damp tea towel. Leave to cool. By doing this, you soften the roulade which makes it easier to roll.
To serve, turn the roulade onto a sheet of parchment sprinkled with icing sugar. Carefully peel off the lining paper. I dip the tip of a sharp knife in icing sugar and just neaten the edges first and then spread the cream. Add your filling on top of the cream. If you're using lemon curd or similar, spread that first before the cream.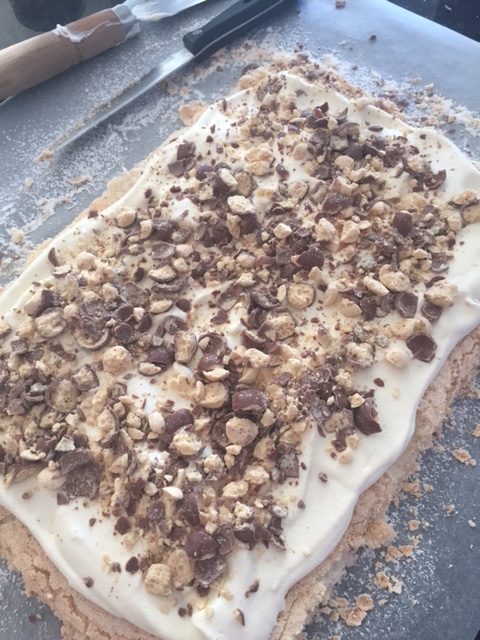 Taking hold of the parchment on the long side, use it to help roll up the roulade carefully. I then twist both ends of the parchment tight and leave the roulade in the fridge for about 30 minutes.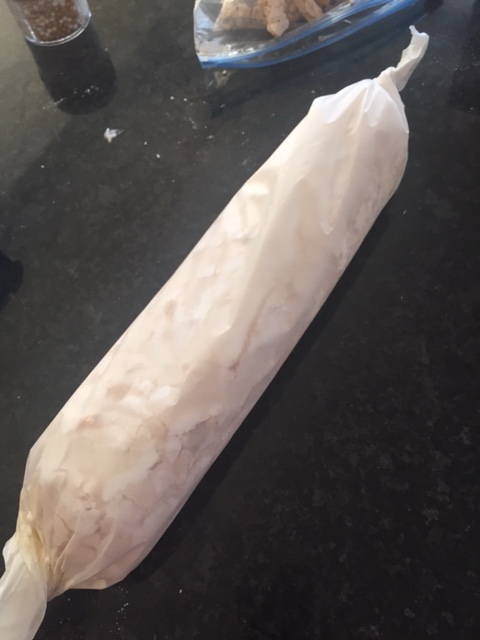 When you're ready, take it out, carefully remove the parchment and place on your serving plate. Add spoons of the whipped cream and decorate as you like. Roulades are supposed to have cracks. It's part of their charm so don't sweat the small stuff!
A little tip for slicing is to pop your knife in boiling water, dry it and then slice. The roulade is very sticky and this helps to get cleaner slices.
Enjoy every bit! Bake with love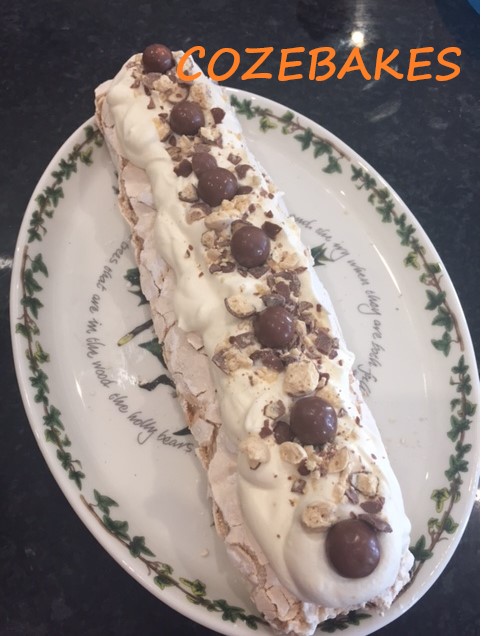 Soraya x