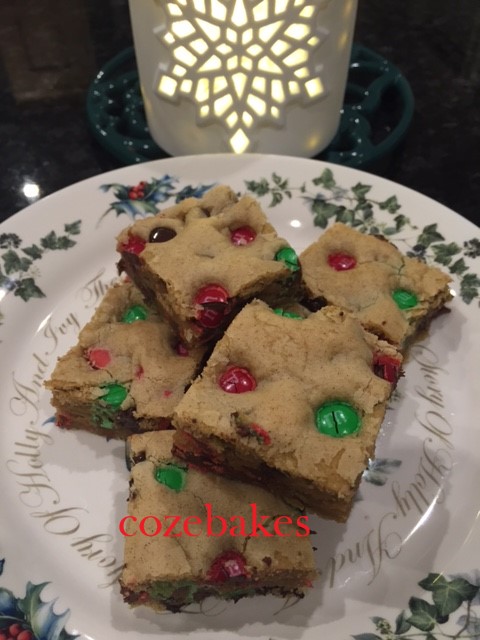 I've adapted this recipe from Jane's Patisserie. She's a little Christmas obsessed which is no bad thing! I've made a similar recipe to this for Easter before using Chocolate Eggs, but the addition of cinnamon is special and wonderful.
I've popped a few variations in the recipe for you to try and as usual, I've reduced the sugar as they are quite sweet with the M&M's and the chocolate chips. They turned out still sweet and very delicious! Quick and easy to make, easy to adapt …. what's not to love??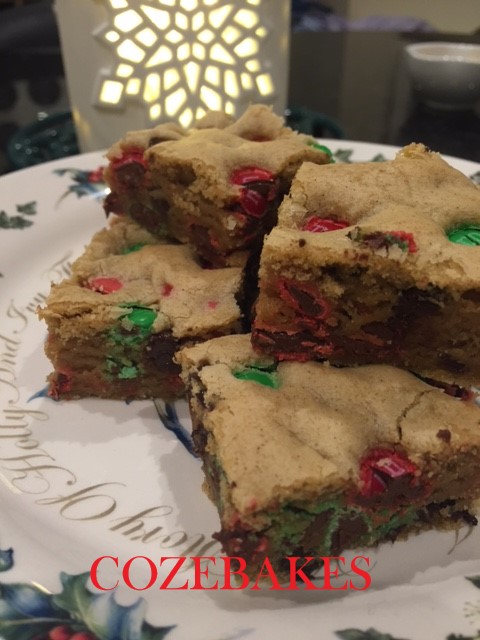 So to start, here's a few variations you can try when making these so each time you make them, they are a little different – nice!
Replace the cinnamon with equal amount of ground ginger.
Use dried cranberries instead of the M&M's and zest of 1 orange
Add 50g of cocoa powder to 200g of plain flour to make chocolate squares
Change M&M's for pecans or walnuts and add 1 tbsp. honey to beaten egg
You can use Peanut or Crispy M&M's for a tasty difference
You can still decorate the top with Christmas coloured candies to get the effect 🙂
Ingredients:
275g plain flour
1 tsp bicarbonate of soda
1/2 tsp salt
1 tbsp. cornflour
1 tsp cinnamon
115g unsalted butter or Stork
30g caster sugar
100g light brown sugar
1 medium egg, beaten
1 tsp vanilla bean extract
200g Christmas M&M's
100g dark chocolate chips
Method:
Preheat oven to 190C / 170C Fan. Line a 9×9″ square tin with parchment and leave an overhang for easy removal later.
In a small bowl, whisk the plain flour, bicarbonate of soda, salt, cornflour and cinnamon together so it's well mixed.
In a large bowl, melt the butter on low heat. Add the two types of sugars and beat for about 2 minutes so the sugar dissolves and the mixture is smooth. Add the beaten egg and vanilla extract and beat again briefly till smooth. This will only take a minute.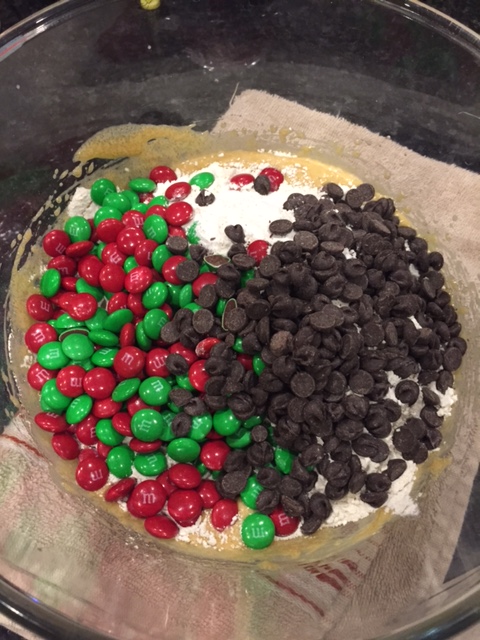 Add in the bowl of dry ingredients but keep aside a handful of the coloured M&M's and the chocolate chips and use a spatula to mix till it forms a dough.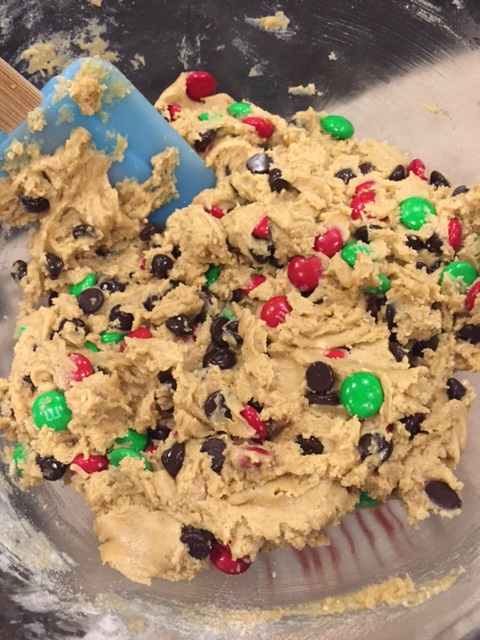 Put this mixture into the prepared tin and press it out to be evenly spread. Now decorate the top with the coloured M&M's and press them gently into the dough.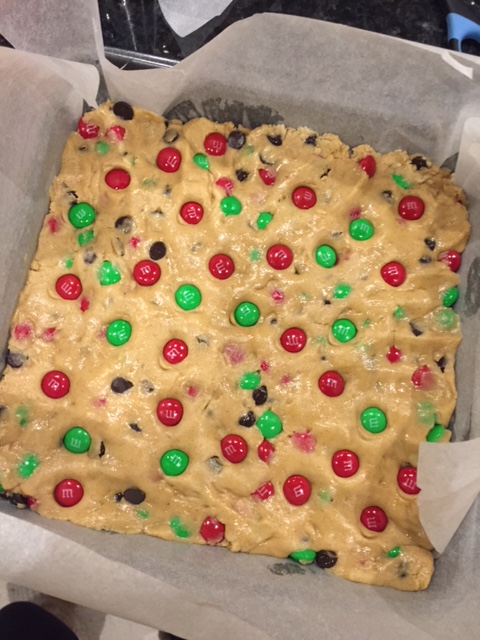 Bake for 20 / 25 mins until the top of the dough looks dry if that makes sense. I baked mine for 20 mins and it resulted in a lovely square with a slight squidgy centre. You can bake for another 2/3 minutes if you want them a bit more solid.
Leave them in the tray for at least 10 minutes before lifting out on a wire rack to cool completely. This is why you leave the overhang. It makes it all much easier.
Once completely cool, cut into squares. I cut mine into 4 x 4 cm squares and got 24. You can make them bigger if you like but I found this was a perfect size.
You can keep them in an airtight container for up to 5 days so they are great for getting ahead and perfect to transport.
Bake with love
Soraya x