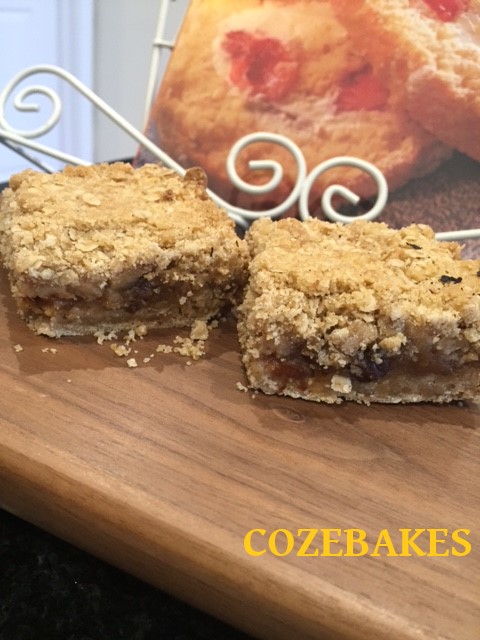 Basically, this recipe is a hug in a traybake! It's so delicious, so warming and full of comfort. The bonus is that it's really simple to make too. You can serve it with crème fraiche or whipped cream for a dessert or just slice into squares and share with your friends over a cuppa.
These delicious squares can easily be converted to Gluten Free by replacing the flour and oats to gluten free options. As it's basically a crumble, it will convert well.
Depending on the size of the bars, you should get about 16 generous slices out of this recipe. You don't need to turn the oven on until you've almost completed the apple filling so you can make the filling first if you need to get ahead.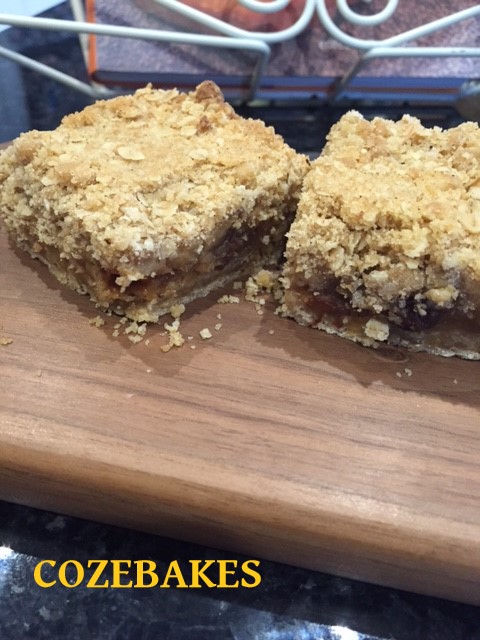 As mentioned, don't turn on the oven till you've almost finished making the apple filling. Set at 190C / 375F / Gas Mark 5. You need to lightly oil and line a 20cm / 8″ square tin with parchment.  I left an overhang so I could easily lift out the finished bake.
Ingredients: 
450g cooking apples, roughly chopped
50g raisins
50g caster sugar
1 tsp ground cinnamon
zest of 1 lemon
200g plain flour
200g soft light brown sugar (you can easily use less or a sugar substitute)
1/2 tsp bicarbonate of soda
150g rolled oats
150g butter, melted
Method:
Put the chopped apples, raisins, sugar, cinnamon and lemon zest into a saucepan over a low heat. Cover and cook for about 15 minutes, stirring occasionally so the mixture doesn't stick and until the apple is soft. Remove the cover and stir well to break up the apples completely. I used a fork to give them a good mash.
Cook the apple mixture for another 20 minutes over a low heat until it's reduced and thick. It will become darker in colour. Allow it to cool. Now you can turn on the oven.
In a large bowl, mix the flour, sugar, bicarbonate of soda, rolled oats and melted butter until it's well combined and crumbly.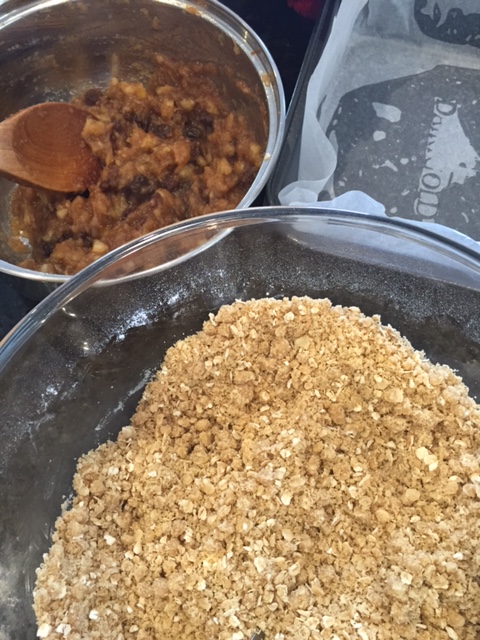 Spread half of the flour mixture into the bottom of the prepared tin and press down. Use the back of a spoon. Next spoon the apple mixture on top and spread out.
Then put the remainder of the flour mixture over the apple and press down lightly.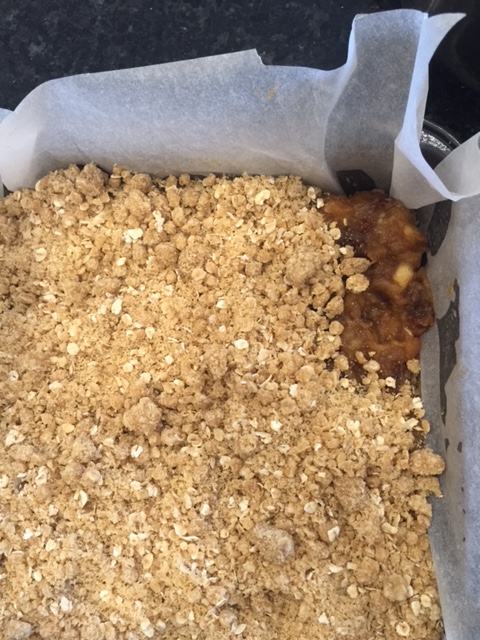 Bake in the preheated oven for 30 / 35 minutes until the top is golden brown. Remove from the oven and let it cool before cutting into slices. It will set firmer once it's cooled down. I found using a palette knife helped to lift the first few squares out of the tin.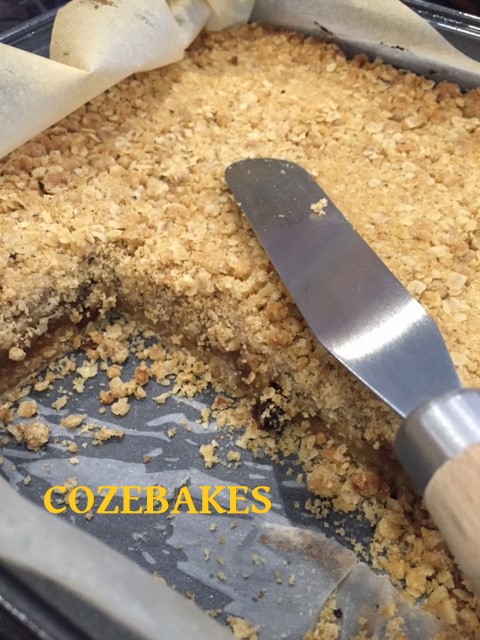 A great bake to have for hungry little folk home from school or to have for a mid morning break. I love how easy traybakes are for transporting and feeding larger numbers of people at a time.
Bake with love
Soraya x