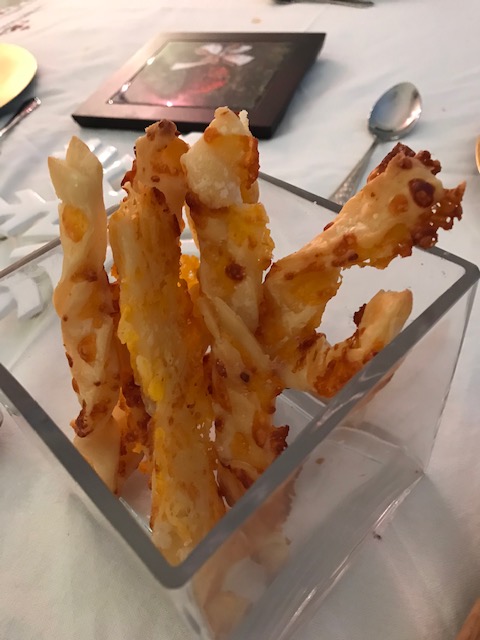 Cheese Straws are such a great recipe to go with any type of drinks you're having. Whether it's prosecco or a beer, they just work so well and can be serve on their own or as part of a platter with dips and other nibbles. Just two ingredients and you have it sorted!
You can make them as big or small as you like and as you can now buy Gluten Free Puff Pastry from Jus Rol, everyone can enjoy them. I prefer to make them with puff pastry as it gives a nice few layers to them but if you don't or can't get it, then use shortcrust pastry.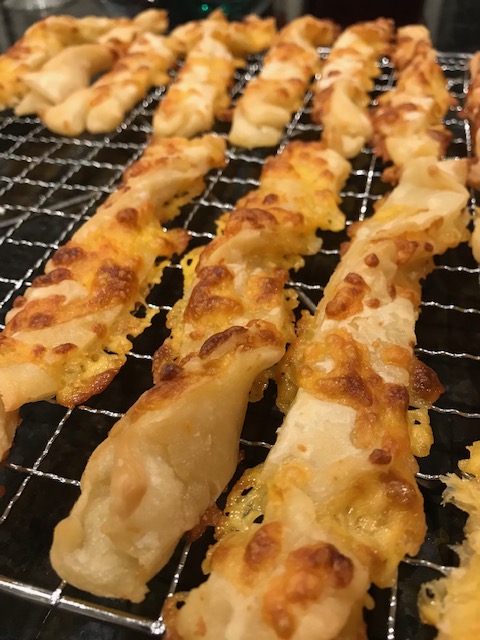 I used a mix of cheddar cheese and mozzarella  but equally, parmesan, romano, etc., will work well just as long as you use hard cheese.
I took the easy way out and bought a pack of grated mixed cheeses but after making these, I would recommend you grate the cheese yourself. It's finer and mixes into the pastry better but it's not essential.
These are basically the ingredients: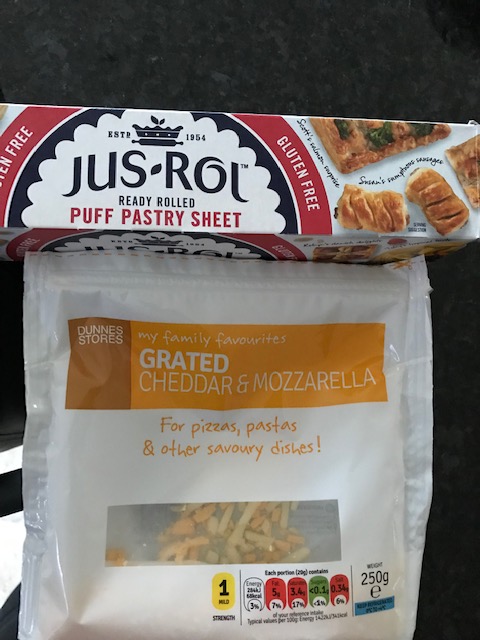 Two sheets of puff pastry (if you have frozen, make sure they are fully thawed) and about 200g of grated cheese. That's it! I added some sea salt just before baking. If you like a bit of heat, then at the second addition of grated cheese, sprinkle some cayenne pepper over the layers.
Preferably, you should leave them resting on the baking trays in the fridge for an hour. It helps the pastry to puff up really nicely but if you don't have the time, then about 10 minutes in the fridge will do.
You need two baking trays lined with parchment. Set them to one side.
Dust the worktop with some of the grated cheeses. Put one sheet of the puff pastry on top of this.
Next add another helping of the mixed cheeses on top of the pastry this time. Gently roll out the pastry a bit thinner. This will press the cheese on the worktop into the pastry, the cheese on top into the top side and smooths out the sheet of pastry too.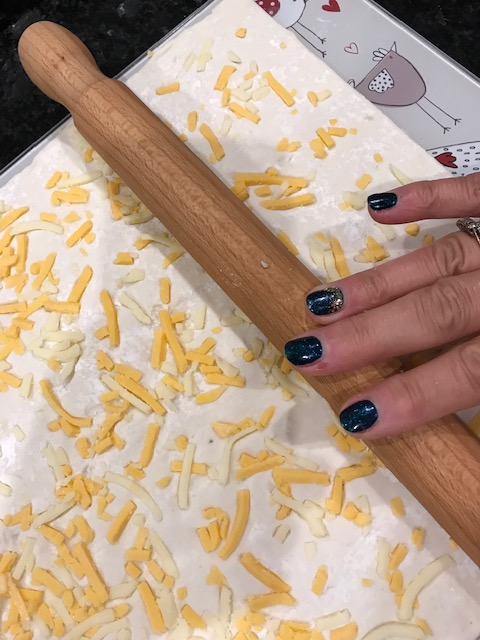 Then you fold the sheet of puff pastry in half and top again with more of the mixed grated cheeses and roll out again for a thinner result.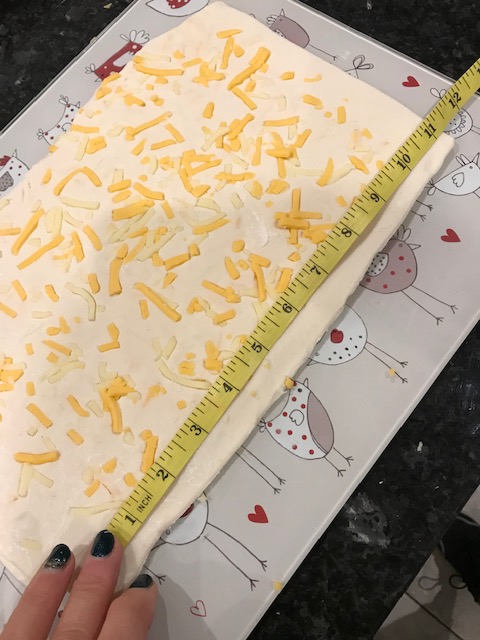 Honestly the size and thickness is not a major issue. It's sort of up to you really but I did find that rolling out the pastry thinner resulted in a nicer looking straw in the end but hey, no-one's going to refuse them! After rolling out the folded over sheet, I measured and it was about 10 inches long so felt that was a good size. I just trimmed off either edge for a neat finish.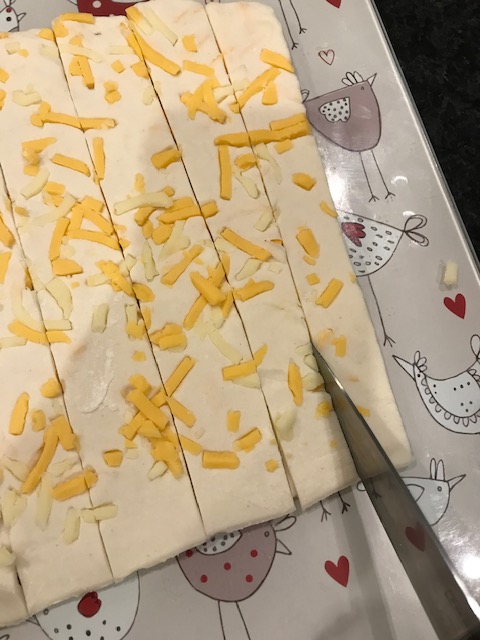 Then I cut into strips. A hint here is to use a good sharp knife and cut straight down firmly rather than try to use a saw motion.  I aimed for strips about an inch wide.
Transfer each strip to your lined baking tray and as you place them down, twist each end in the opposite direction to get a spiral look. Mine didn't twist very well but I think it was due to not being rolled out enough at the last stage so I pressed the ends into the parchment to try to keep them in some sort of shape. Also, as the cheese wasn't finely grated, some of it stuck out in places.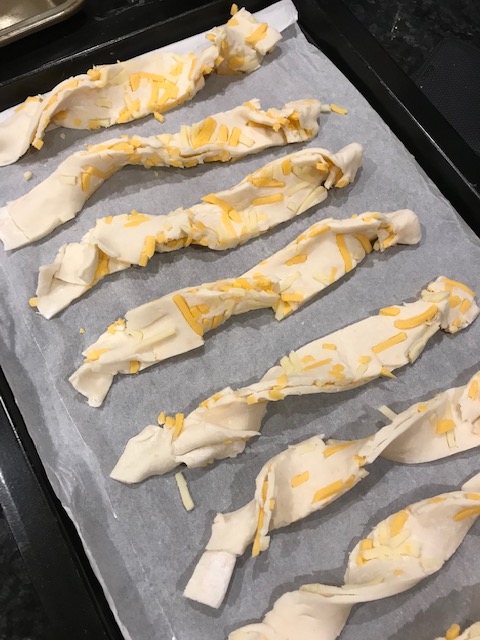 You can see what I mean about the larger pieces of cheese. Definitely I will be grating it myself next time but lesson learnt and it certainly didn't have an effect on the result. Also give them a little bit of space.
Now you can turn your oven to 190C (fan) but as mine is quite hot, I set it at 185C. Then place the trays into the fridge for at least 10 minutes but if you can, leave them longer. An hour would be great.
Bake for 15 to 20 minutes depending on how thick or long they are. I checked mine after 15 minutes and they were perfect so keep an eye if you leave them longer.
Remove and let them cool a bit on the baking tray. Once they are firm enough to lift without bending, you can transfer them to a cooling rack or serving plate. Serve warm or at room temperature. If you want to leave them to cool, then store in an airtight container.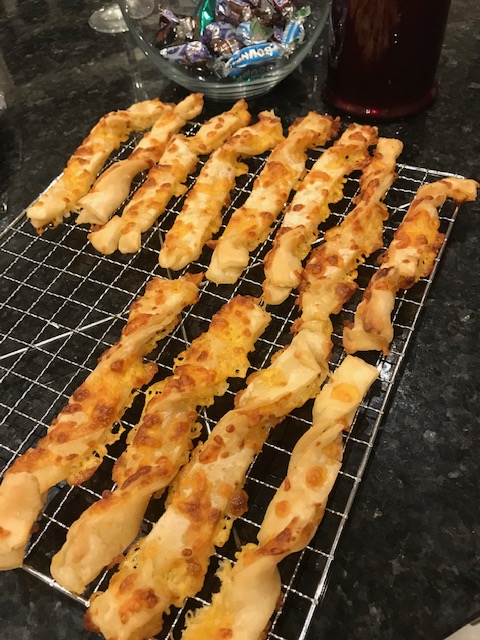 They are best eaten on the day they are made or the next day. As they are so quick to make though, it won't be a big deal. You can make them earlier in the day and leave them covered  in the fridge to bake later.
The flavour options are pretty endless with this recipe. You can try a blue cheese combination with a hard, mature cheese.
Try a sweet variation with teeny bits of pineapple and some goats cheese.
Use your favourite herbs with garlic. I think rosemary and sea salt would be a great combination too.
Enjoy your home made party nibbles!
Soraya x