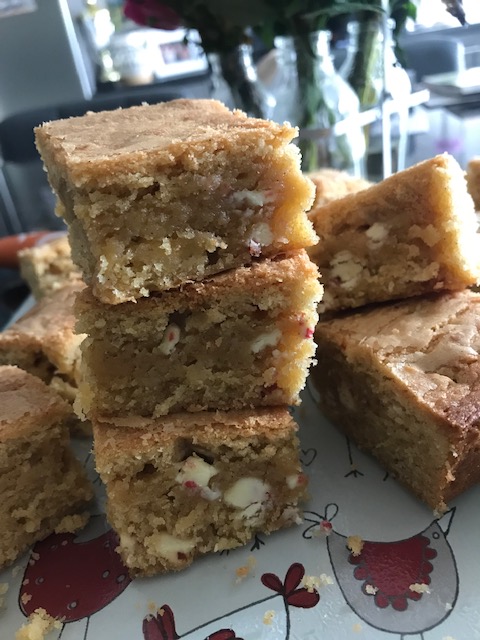 Blondies to me are like the little sister of Brownies – basically the same but without the cocoa powder and chocolate.
They are buttery, soft, chewy and very simple to make with no mixers needed – always a nice thing!
Blondies are the perfect bake for cake sales, charity bakes and perfect to transport. What's not to love!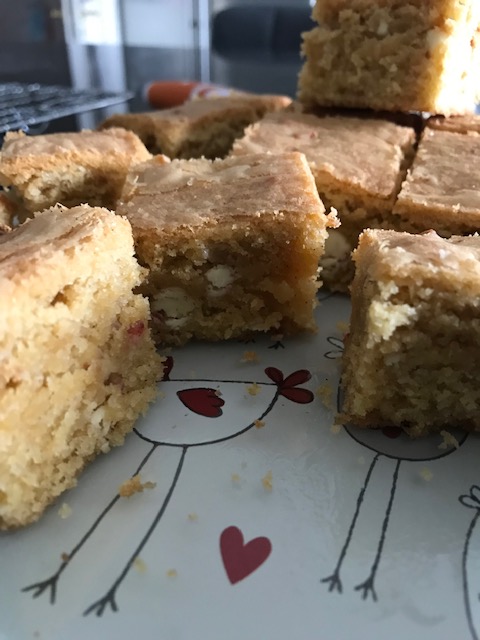 Normally brown sugar is used for Blondies. You can also use all light brown or a combination of both light and dark brown sugar which I did. If you use all dark brown sugar, your Blondies will be richer and sweeter.
This recipe uses melted butter rather than creaming it. I also melt the butter for my brownies recipe and prefer it as you get a lovely chewy texture.
Adding the extra egg yolk and the cornflour also helps to make these Blondies soft and chewy…… I like soft and chewy 😉
Ingredients:
225g unsalted butter, melted
150g brown sugar (see note above)
75g caster sugar
2 large eggs and one egg yolk
2 tsp vanilla extract (I use Vanilla Bean Paste)
285g plain flour
2 tsp cornflour
1/2 tsp baking powder
1/2 tsp salt
125g white chocolate chips (I used Strawberry Crisp Chocolate Bars from Lidl)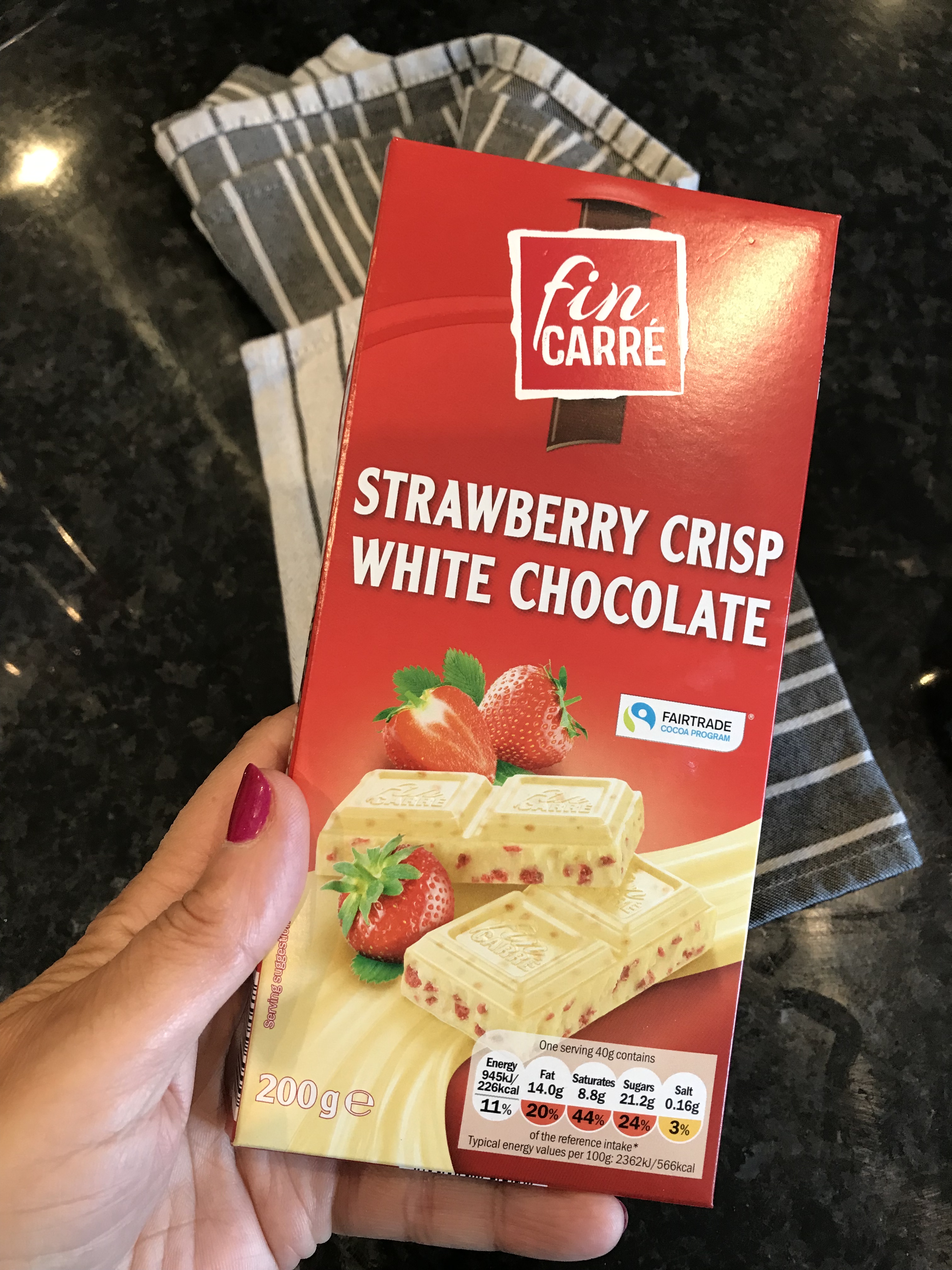 ** You can add in chopped walnuts or pecans – approx. 125g **
Method:
Preheat oven to 175C (fan)
Line a Brownie Tin with parchment. Any rectangular tin will work really. It just means your Blondies may not be as high if you use a bigger sized one. Mine is about 28cm x 18cm. Leave an overhang of parchment for easy removal later.
In a large bowl, place the melted butter and both sugars and stir well. I used a whisk to combine everything.
Add in the eggs, the egg yolk and vanilla extract and stir again till everything is completely mixed in and leave to one side.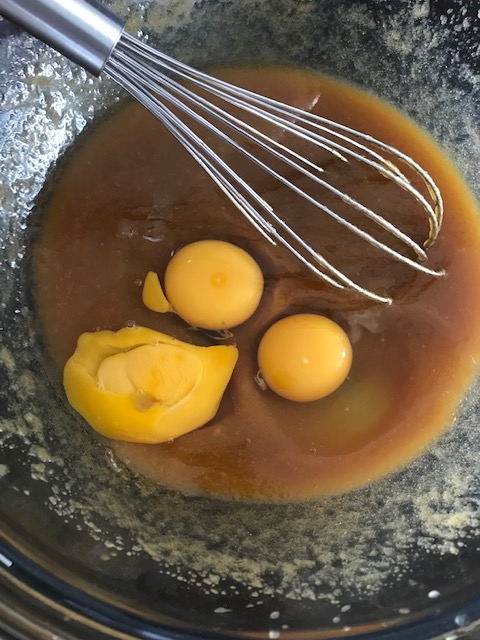 In a medium sized bowl, whisk the flour, cornflour, baking powder and salt together. Gradually stir these dry ingredients into the wet until well mixed with no residue.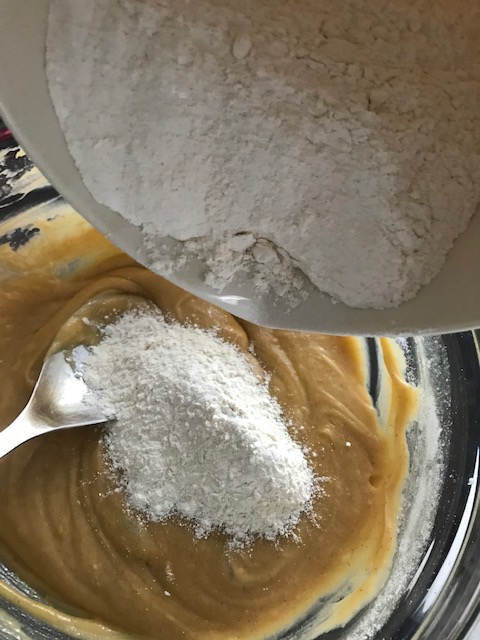 I used the Lidl Strawberry Crisp Chocolate Bar and chopped it into good sized chunks. You want to be able to get a bite of the chocolate in your Blondie … you can of course use regular White Chocolate Chips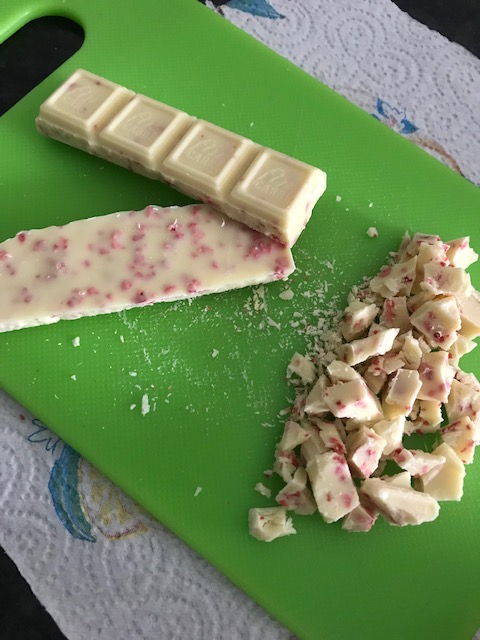 The batter is quite thick and this is the consistency you are looking for:
Next, fold in the chopped chocolate pieces and nuts if using them.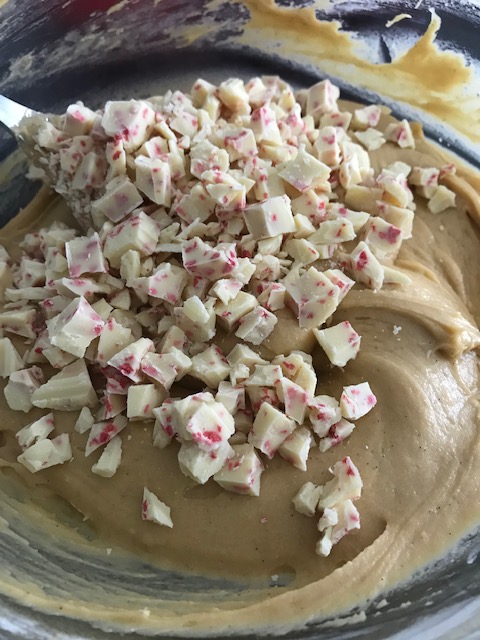 As the batter is quite thick, spoon amounts into the prepared tin so it's spread out and then it's an easier job to push out to the edges and flatten with the back of a metal spoon.
Spread out and bake in the preheated oven for 25 – 30 minutes and check with a skewer so it comes out clean or with a few fudgy bits attached.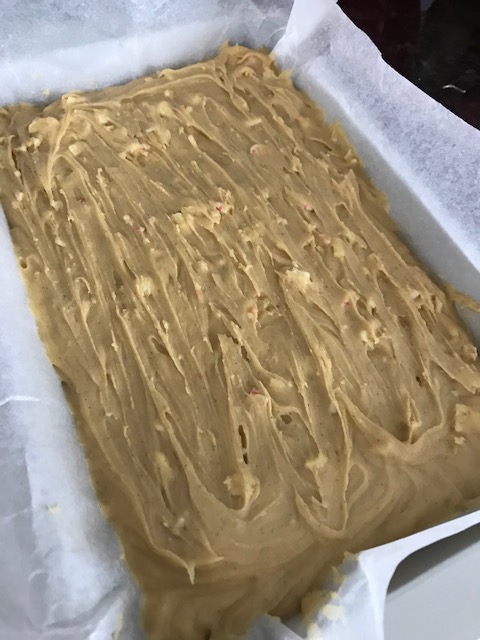 It might be a bit raised in the center after baking but this will settle down. Allow to cool in the tin and then remove and cut into squares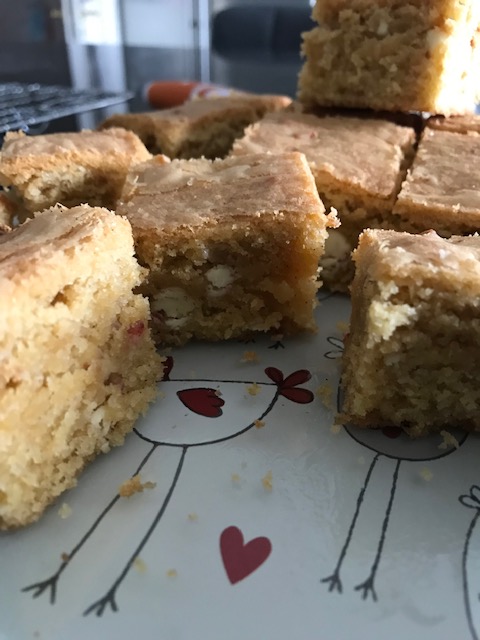 Eat and enjoy …. the next day they are even better! Yum!! Store them with a piece of parchment between the layers.
Bake with love
Soraya x