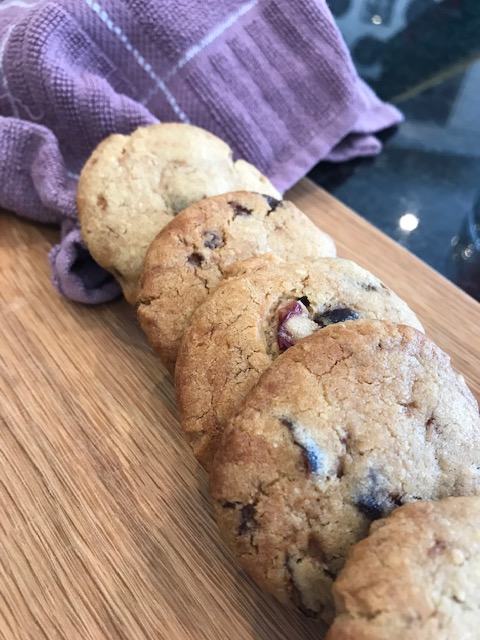 I think practically everyone loves a Bakewell Tart and I'm as big a fan as the rest! These cookies have all those amazing flavours with only a little effort and you can make the dough ahead of time and keep in the fridge till it's needed.
They contain ground almonds and almond extract to give that delicious Bakewell flavour and the recipe called for glace cherries  but as it's the season for fresh and sweet cherries, I used half and half and it worked out really well.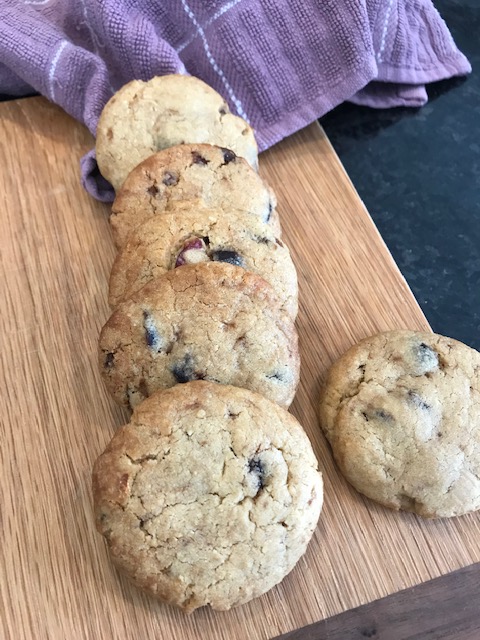 Once the dough is made, you do have to chill it in the fridge for a minimum of an hour but you can leave it overnight if you want and then bake when needed. What could be better? Freshly baked cookies to enjoy at your break!
The original recipe called for the dough to be rolled into balls and then baked but I found doing this meant ending up with a mound shape cookie rather than the traditional shape. It also meant they turned out quite "cakey".
Now there's nothing wrong with them like that but you will miss out on the delicious crunchy and chewy experience of these cookies.
Oh one more thing … a little apology … I started making the cookie dough and had a visitor. I was so busy chatting that I forgot to take pictures until after the hour of chilling! Whoops!
Ingredients:
125g butter (use dairy free spread if needed)
150g caster sugar (I reduced it to 75g)
50g brown sugar
1 tsp almond extract
50g ground almonds
1 tbsp. milk (use almond, coconut, soy, etc., for dairy free version)
250g plain flour
1 tsp baking powder
100g glace cherries, chopped (you can substitute half of these for fresh cherries if they are available)
Method:
In a large bowl, beat the butter and both sugars together until the batter is light and fluffy. This will take a few minutes. Around 3-4 mins.
Add in the almond extract, ground almonds and milk and mix well.
Next, stir in the flour and baking powder and it will start to form a soft dough.
Next gently fold in the chopped cherries and make sure they are well dispersed. You can then bring the dough together, gently, with your hands, wrap and place in the fridge to chill for at least an hour.
When you're ready to bake your cookies, preheat the oven to 180C – 170C Fan and remove the dough from the fridge.
Just look at those cherry pieces!!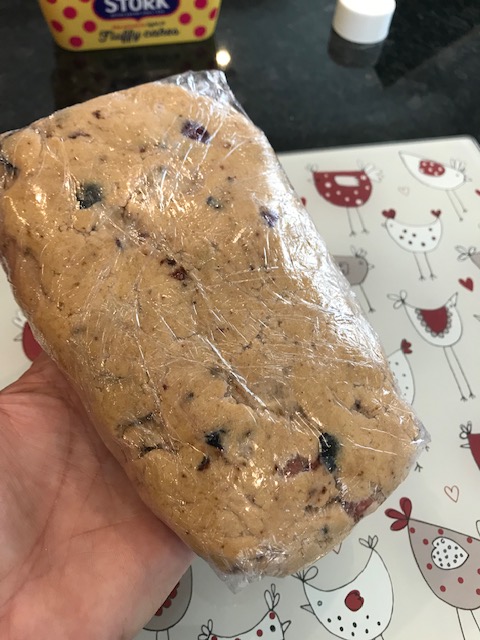 Taking a piece of dough, roll them into small balls, about the size of walnuts in their shells and place on a lined baking tray. Leave a little bit of space for them to spread. Flatten each ball of dough gently, just a little, with the palm of your hand.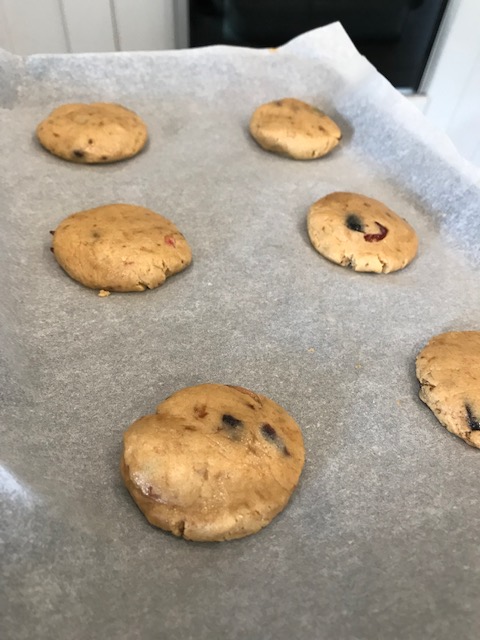 Bake in the preheated oven for 10 to 12 minutes, depending on the size of the cookies and you will see they become golden at the edges.
Remove from the oven and leave them to cool on the tray. Then enjoy them!
Still looking at those delicious pieces of cherries … 🙂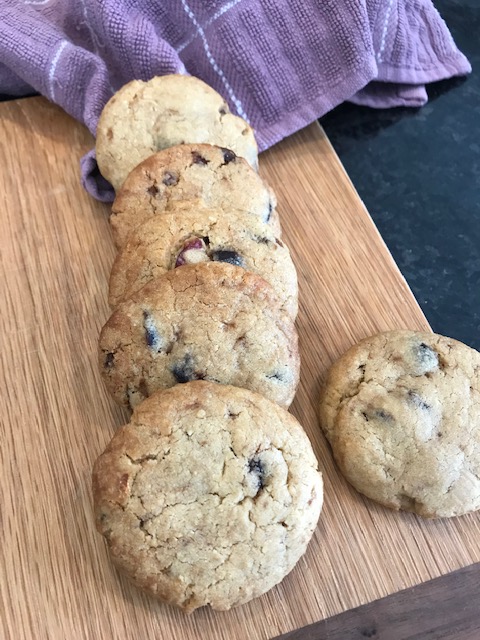 Bake with love
Soraya x