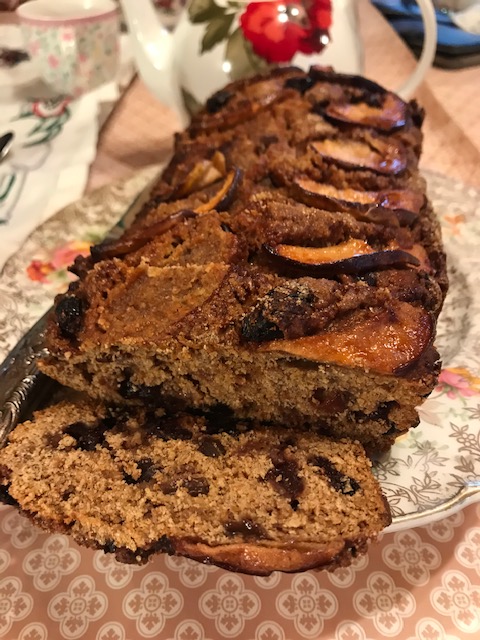 This recipe is a twist on what we would know as a traditional  Tea Loaf. It's got ground almonds, grated apple and I swapped whole wheat flour in place of white flour for a healthier result. As I was using dried fruit which is naturally sweet, I could also reduce the sugar quantity.
The slices of apple dipped in tea and decorated on top give it a lovely rustic look and something to bite into. When I made it, I felt it was going to be very dense and dry but it worked out really nicely and perfect with a cup of tea any morning or afternoon.
By using whole wheat flour, the recipe is changed to a healthier version with more fibre and less processed flour, plus reducing the sugar quantity is always a bonus. Sprinkling a little brown sugar on top gives it a lovely caramelised finish.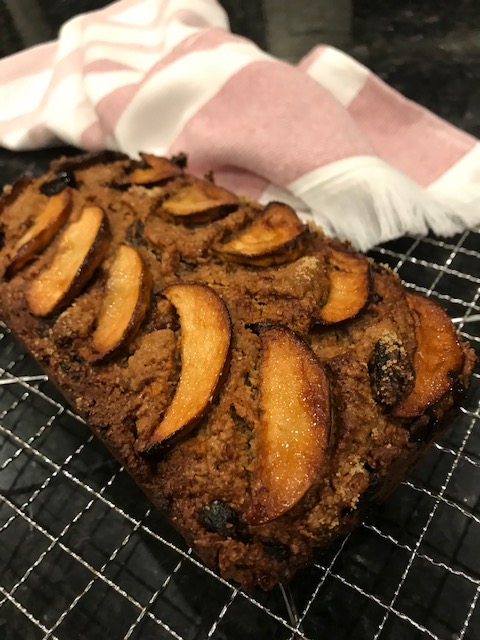 If you're organised enough, you can soak the fruit in the tea overnight but if not, soak it in the morning and make the tea loaf in the afternoon. That will give the fruit time to soak up the tea flavour.
I used a combination of dried cranberries and sultanas as that's what I had most of, but you can use any combination you like.
Ingredients:
200g dried fruit of your choice
200ml strong tea with tea bag left in
30g butter, melted
175g whole wheat flour (you can use 175g of self raising flour), sifted
*1 tsp baking powder – only if you use the whole wheat flour*
75g light brown sugar
1 tsp Mixed Spice
85g Ground Almonds
1 cooking apple – half grated and half with skin on, cut into thin wedges
1 large egg, beaten
2 tbsp milk
Method:
In a small bowl, place the dried fruit and tea (with the tea bag). Cover and leave for about 4 hours or preferably overnight.
Grease or line a 2 lb loaf tin and preheat oven to 160C Fan
Drain the fruit into a small bowl and reserve the tea for later, remove the tea bag.
Put the sifted flour, sugar, mixed spice, baking powder if using, ground almonds and a pinch of salt into a large bowl and stir together.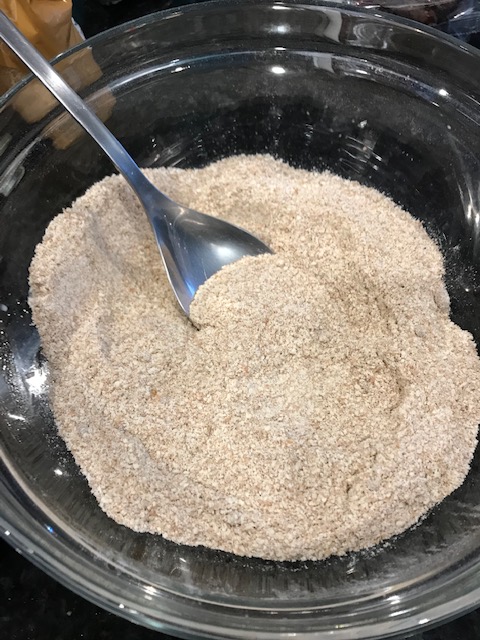 In the bowl with the fruit, add the melted butter, grated half apple, beaten egg, milk and 4 tablespoons of the reserved tea and mix together.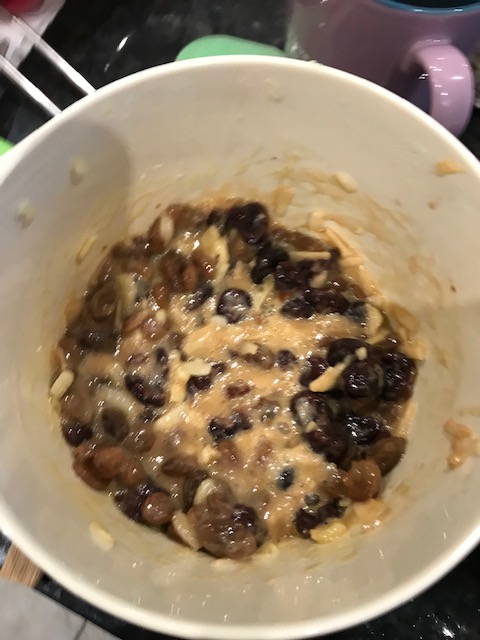 Add the wet ingredients into the large bowl with the flour mixture and stir together. Make sure to get all the flour at the bottom of the bowl. It's a thick batter and it will take a good few turns to combine everything. Spoon this into the prepared loaf tin and level the top.
Dip the apple wedges into the leftover tea and place over the batter. Press them in a bit and then sprinkle about 2 tsp brown sugar over the top.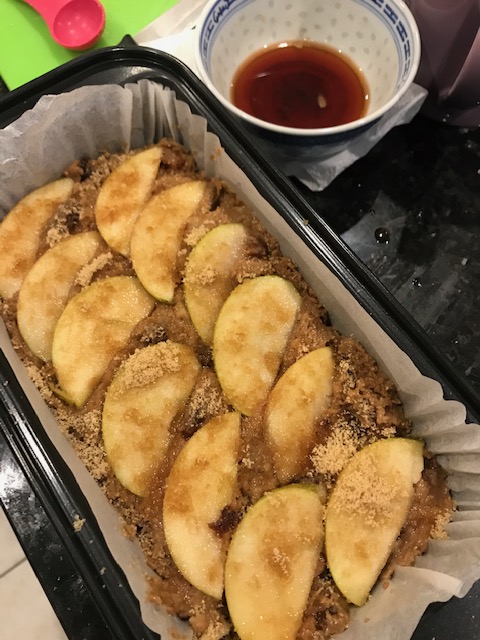 Bake for 1 hour and 30 minutes. I covered the cake with foil for the last 30 minutes as it was browning quite a bit. It should be risen and a dark, golden brown in colour. Insert a skewer into the middle and it will come out quite clean. It may have a few crumbs attached but that's ok. Remove and leave to cool in the tin for about 30 minutes. Next time, I'll press the apples further into the batter before baking to prevent charred edges.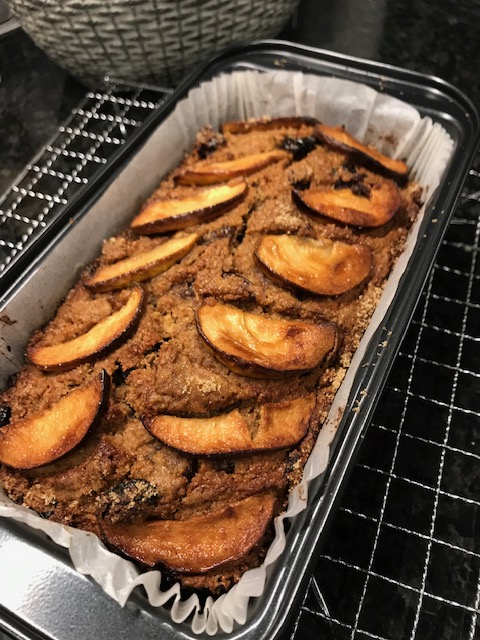 Lift out using the liner or parchment paper and leave to cool completely on a wire rack.
Once cool, wrap in tin foil to keep. It cuts nicely into 9/10 generous slices.
Bake with love
Soraya x