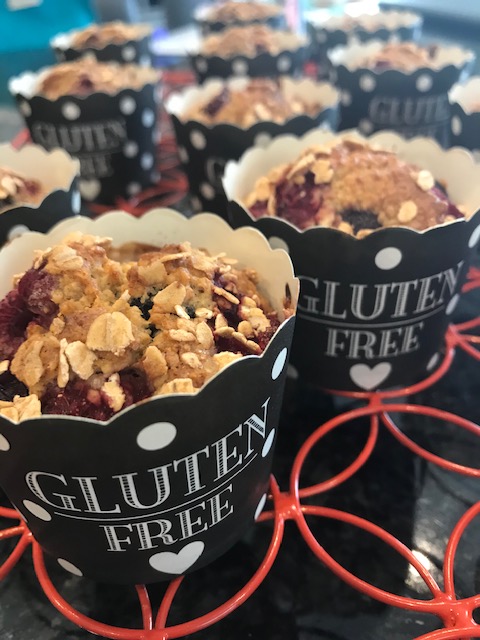 Love this ever so easy recipe which uses a food processor to make and that's it! If you don't have a food processor, you could use a blender and I think it may also work in a Nutri Bullet.
It's full of lovely oats which I've blitzed before proceeding so I basically have Oat Flour. It gives a better result once baked. It's perfect to use up a couple of over ripe bananas and there's no butter in the recipe. We use oil instead. Sunflower is good but equally, vegetable oil will work too. The last bit of good news is there's no refined sugar either. It just keeps getting better! You can choose from honey, maple syrup or like me, use Agave Syrup.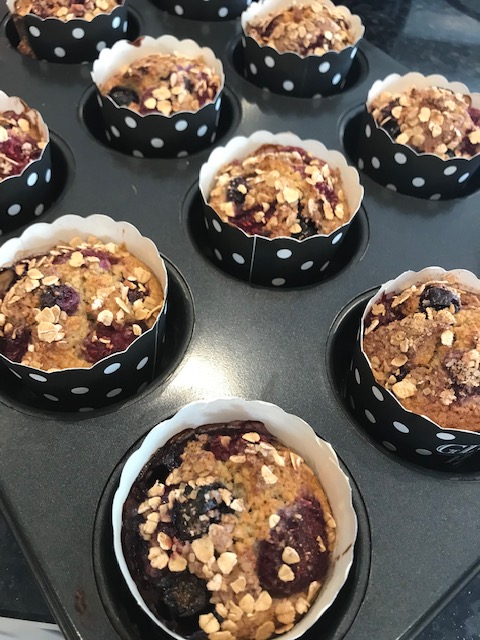 These little muffins are so pretty to look at; they taste fantastic freshly baked and heat up really nicely in the microwave. Once completely cooled, you can freeze them too.
The recipe is just so simple that I made a quick 5 minute video to show how it's done. You couldn't take lots of pictures as there's just the food processor and you! If you are on the cozebakes Facebook Group page, you can catch the video there.
Ingredients:
225g gluten free oat, blitzed to a fine flour
1 tsp gluten free baking powder
1 tsp ground cinnamon
2 small bananas, mashed
2 eggs
75ml sunflower or vegetable oil
75ml milk (or non dairy substitute will work)
50ml honey, maple syrup or Agave Syrup
1 tsp vanilla extract
85g raspberries
50g blueberries
2 tbsp oats, 1 tbsp demerara sugar, 1/2 tsp cinnamon for topping
Video showing how to make these muffins: https://www.facebook.com/soraya.quigley/videos/10216573176583017/
Method:
Preheat oven to 190C or 170C Fan and line a muffin tin with cases.
Put the oats in the food processor and blitz until fine. Add the baking powder and cinnamon and blitz again to combine these dry ingredients.
Into a large jug or bowl, place the mashed bananas and add the eggs, oil, milk, honey or syrup and vanilla extract. Give it a quick whisk.
Add these wet ingredients to the dry ones in the food processor and blitz again for 1 to 2 minutes. You can stop and scrap the sides if needed.
Finally, divide the batter equally among the cases. Use an ice cream scoop to do this. Place some raspberries and blueberries on top of each muffin and gently press them in. In a small bowl, mix the oats, demerara sugar and cinnamon and top each muffin with a sprinkling.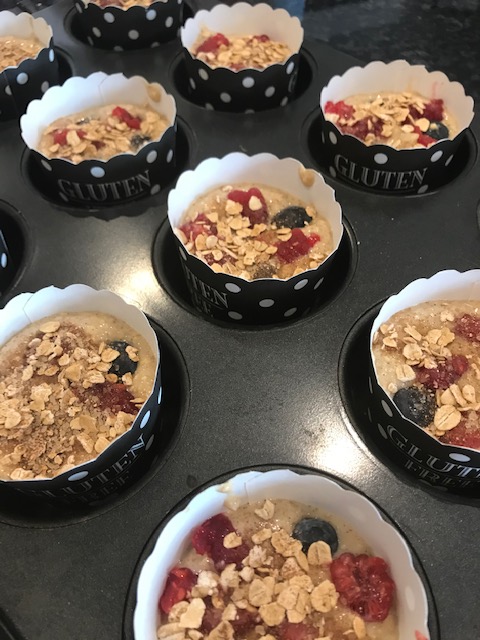 Bake in the preheated oven for 35 – 40 minutes. Remove from the oven and onto a wire rack to cool.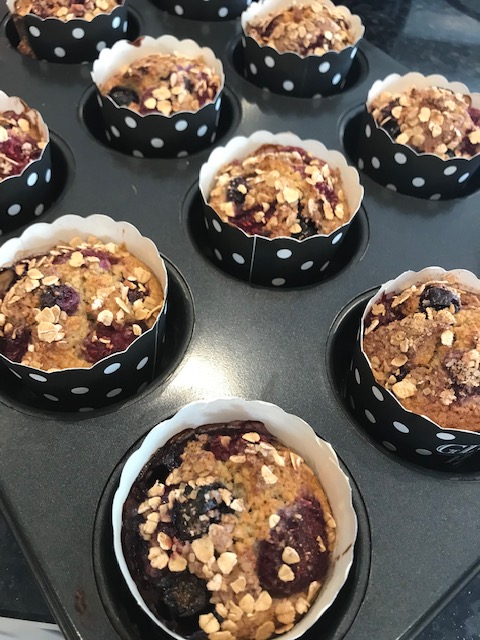 Don't try to remove them from the paper cases until they have cooled completely as they can stick.
They will keep for up to 3 days in an airtight container.
So pretty and delicious!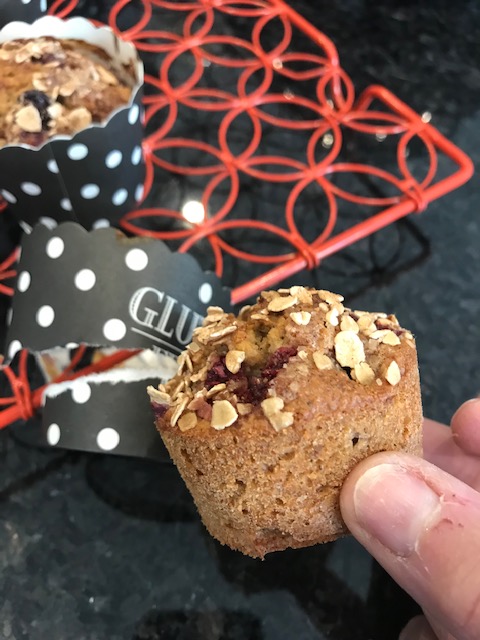 Bake with love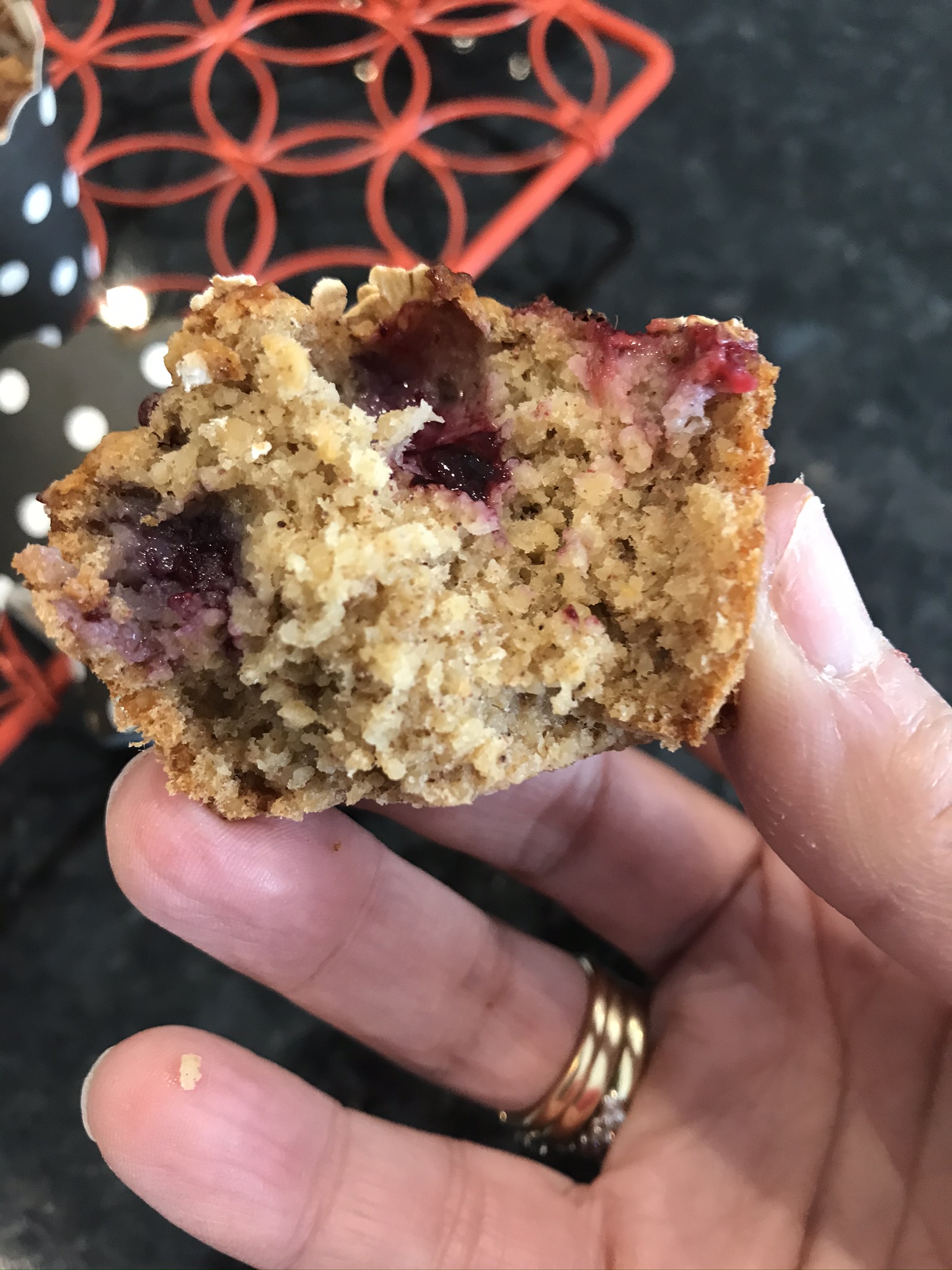 Soraya x