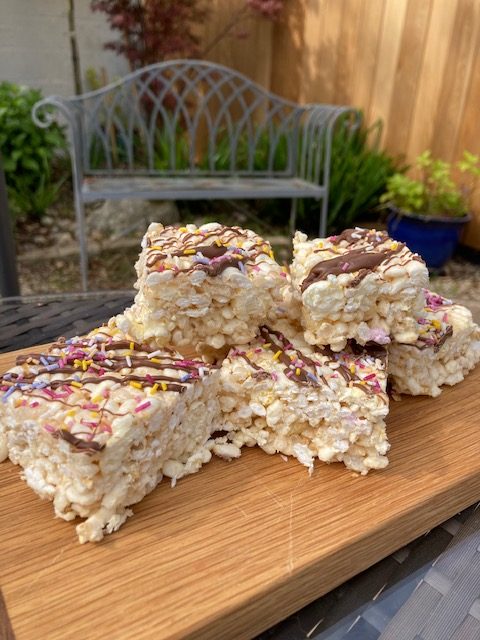 I was delighted to receive some amazing products from the Free'Ist range and set about creating a fun and very simple, no bake recipe that everyone can enjoy. Free'Ist is an Irish company that produce a range of products to help reduce your sugar intake but never compromises on taste. The bonus is that a lot of their products are also gluten free!
Check out their website with great Bundle Offers: https://freeist.co.uk/?v=79cba1185463
I took the much loved and well known Rice Krispies Squares and adapted them to add some sweet and salty popcorn from Free'Ist and the combination works so well. I also used dairy free butter and milk which worked great.
These delicious squares are a no bake dessert which would work so perfectly at a BBQ or party. You need only a few ingredients and about 15 minutes to make. You do need them to sit in the fridge for at least an hour. This recipe will make 2 tins of Marshmallow Squares.
They are best made for when you need them. They will be good for 2 days in an airtight container in the fridge but you can free them which is amazing! Pop them in a freezer friendly container and when you're ready, just defrost overnight.
I've a couple of tips that you should be aware of:
Melt your butter on low so it doesn't brown
Check all your ingredients so they are in date. Fresh marshmallows are the best.
If you can't get mini marshmallows, cut them using a greased scissors
Use a greased spoon to spread the mixture into your baking tin
Pop some coconut oil on your hands to press firmly into the tin
Press the mixture very firmly into the pan. GF crispies/puffed rice can be soft
Ingredients:
113g unsalted plant based butter
350g Free'Ist Sugar & Gluten Free marshmallows
1 tsp vanilla extract
Pinch of salt
2 tbsp plant based milk of choice (unsweetened)
250g GF Rice Crispy Cereal
130g Free'Ist Sweet & Salty Popcorn (bash them in the bag to break up a bit)
75g Fee'Ist Milk or Dark Chocolate, melted
Method:
Line a 9″ x 13″ baking tin with parchment and keep aside 100g of marshmallows.
In a large saucepan, melt the butter on low heat. Once melted, add the marshmallows and stir until fully combined and there are no lumps left.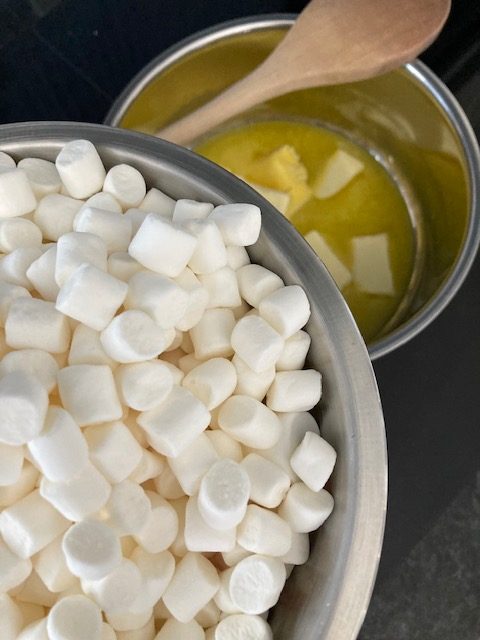 Add the vanilla extract, the plant milk and salt and stir until well combined.
Remove from the heat and add the rice crispies of choice. Use a greased spoon to mix everything until all the cereal is coated with the marshmallow mixture.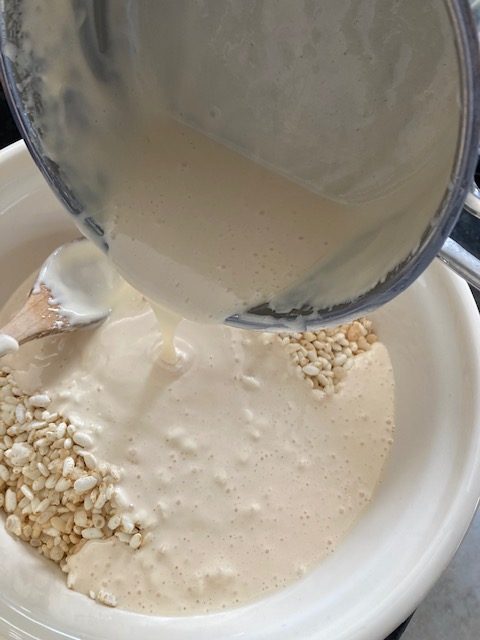 Add the set aside marshmallows and the popcorn and again, stir till everything is well mixed together. Using a greased spatula or spoon really helps as the mixture is very sticky.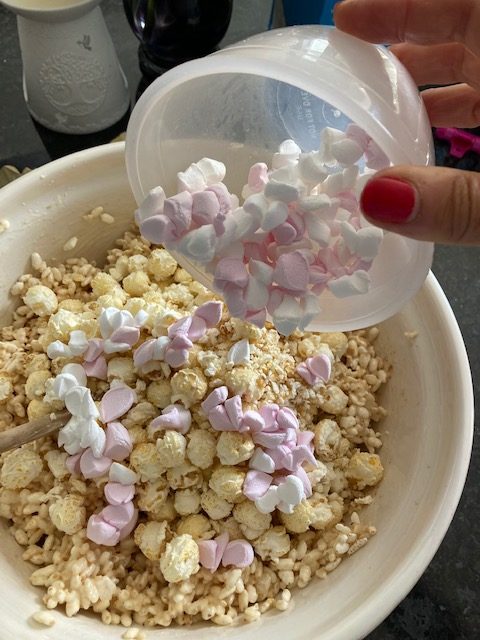 Transfer to the lined baking tin and press the mixture into the pan to level it out. If you're using Gluten Free cereal, you need to add a good bit of pressure so the squares will stick together. I greased the gloves with coconut oil first but just grease your hands – that works too.
Melt the chocolate and drizzle over the top of the squares.
Cover with plastic wrap and pop the tray into the fridge for at least one hour to help solidify the squares. When you're ready, cut into squares and enjoy!
Store in the fridge in an airtight container for up to 2 days or freeze (see notes above).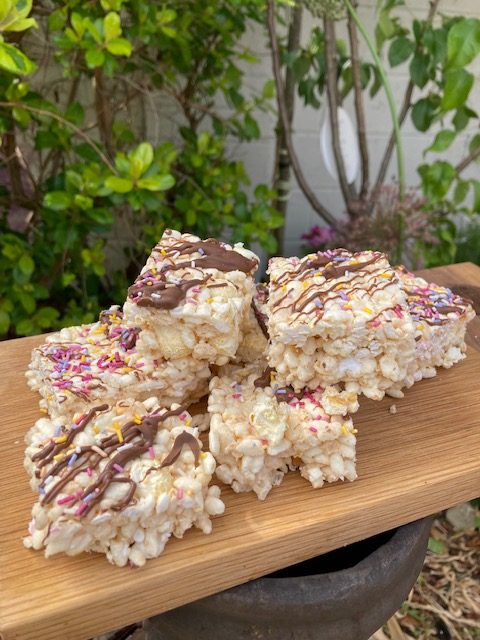 A great, no bake crowd pleaser!
Soraya x