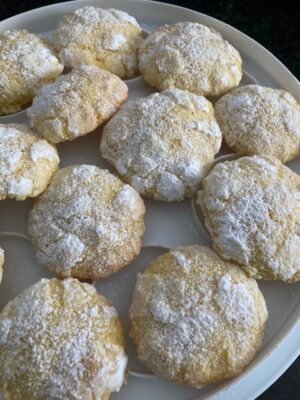 Light, fluffy and lemony! I don't need to say anymore. Just scroll and make them!
The loveliest of lemon cookies that can be made as small as you like for a dainty afternoon tea or regular sized for coffee with friends. Everyone went back for a second (and some for a 3rd!)
The only thing I want to let you know about is that you definitely need fridge time for these cookies so first of all, don't turn on the oven and secondly, they need at least an hour in the fridge to be easier to handle so be sure to include that in your prep. They bake in 12 minutes only so there's not much time to think about once the fridge time is done.
You should get 13 – 15 medium sized Lemon Crinkles from this quantity. Of course if you make them smaller, you'll get almost double that. I make mine about the size of a table tennis ball for a medium sized cookie. These bad boys spread while baking so don't go any bigger than that.
Ingredients:
120g plain flour
1 tsp baking powder
1/4 tsp salt
58g butter, softened
80g caster sugar (use 100g for a sweeter result)
1 egg, large
Zest of 1 lemon
1 tbsp fresh lemon juice
1 tsp limoncello
Yellow food colouring (optional)
25g icing sugar
I have also made these Gluten Free and these are the changes needed:
120g plain Gluten Free flour
1 tsp Gluten Free baking powder
1/4 tsp Xanthan Gum
2 tablespoons Lemon Juice
You might need to bake for a further 3-4 minutes. Check the centre is set.
Method:
Whisk the flour, baking powder and salt in a small bowl.
In a large bowl, beat the butter and sugar till light and creamy. It will take a few minutes.
Next beat in the egg, lemon zest, lemon juice, limoncello and food colouring if using. Beat well till combined.
Finally add the flour, baking powder and salt and beat just till the mixture starts to become dough like. Cover the bowl and let it sit in the fridge for at least 1 hour.
When you're ready to bake, preheat the oven to 160C Fan or 180C and line a large baking tray with parchment. With lightly oiled hands, take small portions and roll into a ball shape. Dip each ball into a bowl of icing sugar till it's covered. Give them a bit of space as these cookies spread while baking. Bake for 12 minutes till you see the edges are firm and the centre is set.
Remove from the oven and leave them on the baking tray for at least 5 minutes before transferring to a wire rack to cool completely. You can dust with a little more icing sugar if you like to serve.
Enjoy the lemon and leave a review if you try these. You can leave a review below or on my Instagram or Facebook accounts. I would love to see your results.
Soraya x