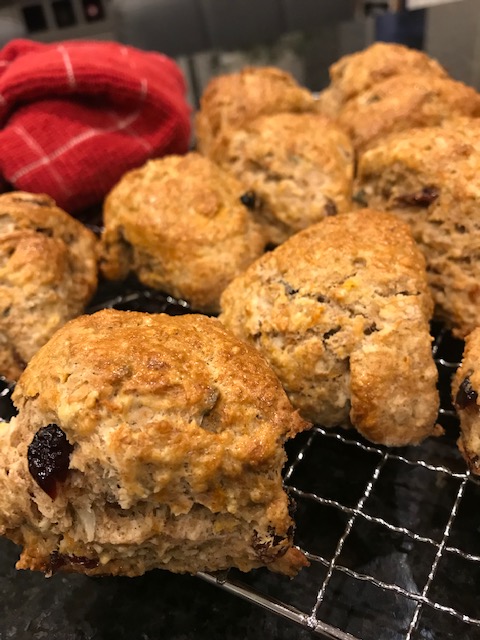 I wanted to make a tasty scone that didn't leave me feeling bloated when I enjoyed one mid morning and my aim was to have it sugar free and healthy so I combined a couple of fresh and dried ingredients you would normally have in the kitchen,  added some spices and used my Best Scone Recipe as the base. Here's that recipe if you want to try it: https://www.cozebakes.com/2017/03/10/best-scone-recipe/  
So the Good Morning Scones were born! They are full of lovely naturally sweet ingredients like dried cranberries and sultanas plus using a mix of wholemeal flour with the plain flour adds a healthy, full of fibre boost. I used a mix of sunflower and pumpkin seeds to add even more healthy bites.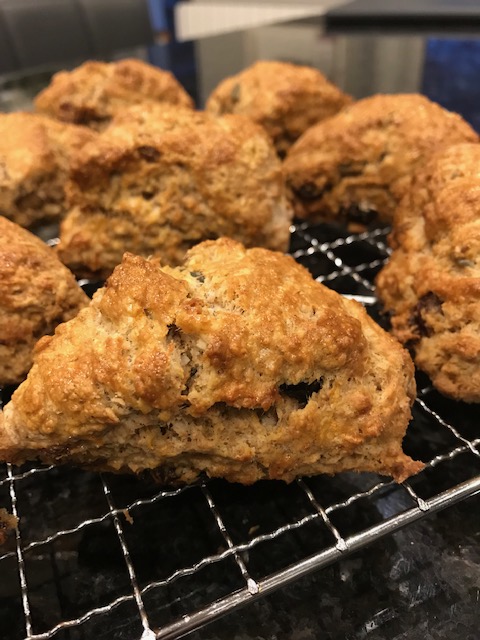 It's a simple recipe and works nicely to give you the option to replace some of the ingredients to your own liking. You can use dried blueberries in place of the cranberries; choose pecans or walnuts instead of the mixed seeds and try cinnamon with nutmeg for the spices.
If you feel you would like a sweeter scone, then add 30g of caster sugar to the dry ingredients and make a simple glaze with icing sugar and lemon juice to drizzle over the top.
For a change, I didn't go with the traditional scone shape. I made these Good Morning Scones in triangles so you can just pick one up and go. Handy to have when you feel a dip and because of the size, you really don't need butter with them but I won't judge 😉
Ingredients:
178g plain flour
155g wholemeal flour
15g baking powder
1 tsp cinnamon
1 tsp All Spice
75g butter (if you're using unsalted, add 1/2 tsp salt)
45g finely grated carrot (approx. one large carrot)
30g sultanas
45g dried cranberries
45g desiccated coconut
25g mixed seeds
200ml buttermilk
1 large egg
Preheat oven to 190C (Fan) and line a baking tray with parchment paper. I have found sometimes that some of the non stick sprays can be hard to remove so this is just easier.
Method:
Place the two flours, baking powder, spices and salt if using into a large bowl and whisk together.
Using a pastry blender or your fingertips, add the butter cubes and rub in.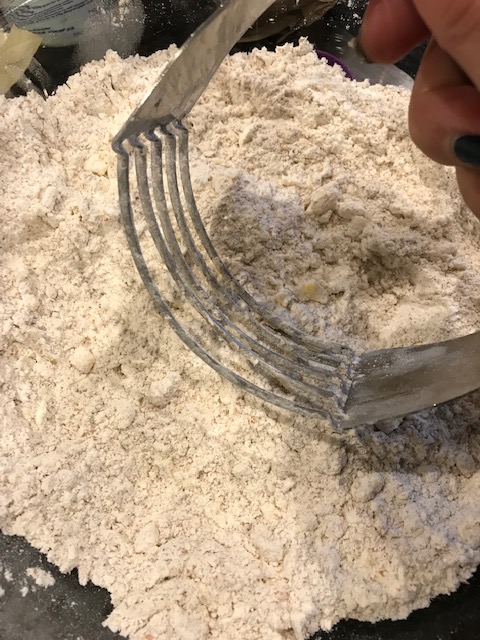 Then you can add the carrots, sultanas, cranberries, coconut and mixed seeds and give it all a good stir.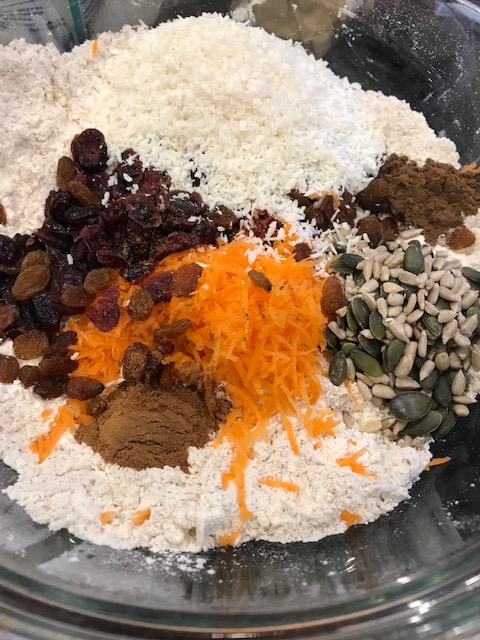 Just as a note, I used the finer side of my grater for the carrots. You could do it differently but I didn't want people biting into large bits of carrots. This is the size I used: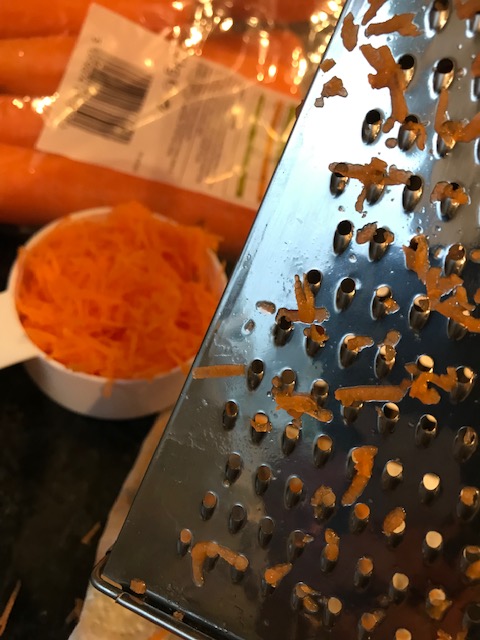 Using a small bowl or your measuring jug, add the buttermilk and egg and whisk to combine and then add into the dry ingredients. I use a palette knife to bring together until just combined.
Sprinkle about 1 tbsp. of flour on your work surface and turn out the dough. Sprinkle another 1 tbsp. of flour on top and knead to bring together. It will only take 4 or 5 turns. Don't overdo it or your scones won't be light. Divide in half.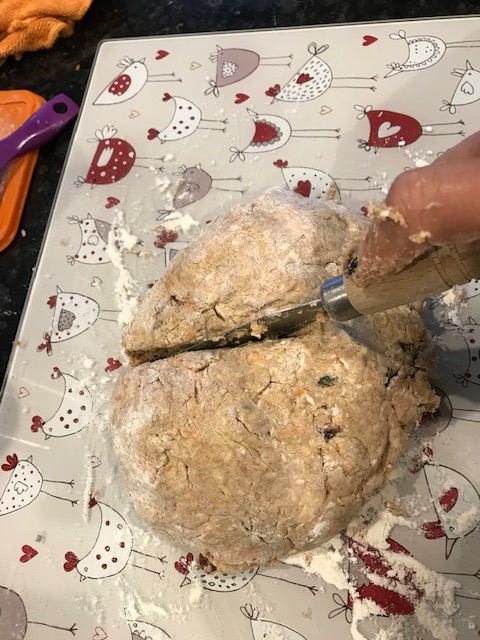 Simple pat each half into a circle about 5″ and then cut into 6 wedge pieces and transfer these to the prepared baking tray.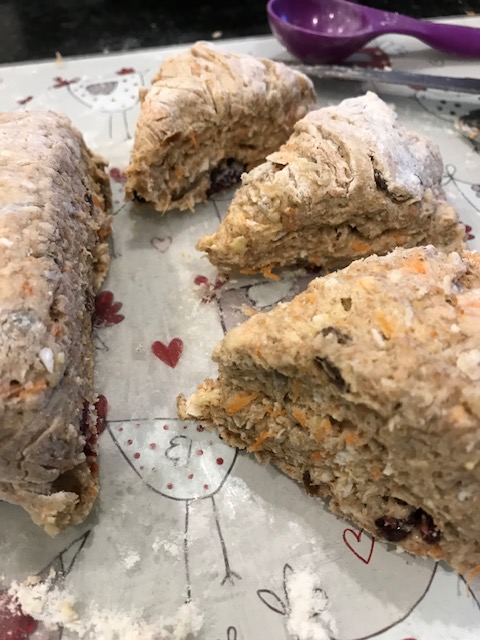 You can see they are quite high which is what you want. Line all the wedges up on the baking tray. Glaze the tops and sides with beaten egg.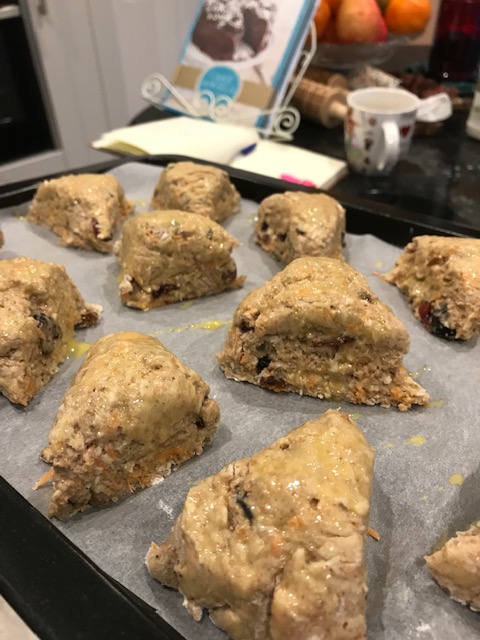 Bake in the preheated oven for approx. 19/20 mins. Check to see if they are baked. They should feel firm. The bottom should sound hollow when tapped and a skewer should come out clean.
You can make ahead and store in an airtight container for 1 day. You can reheat them at 150C for 10 mins before serving.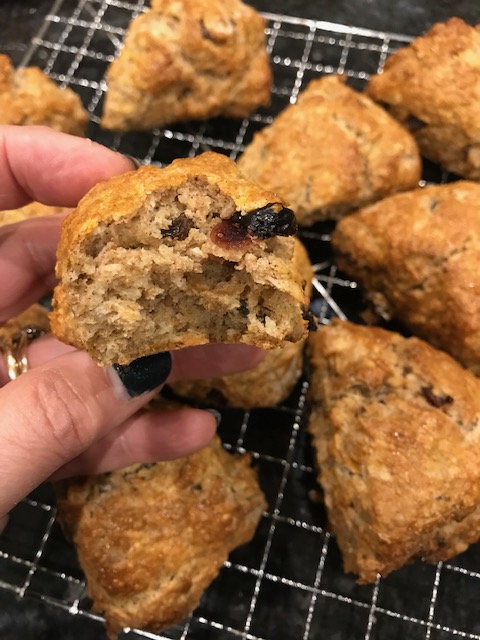 Bake with love
Soraya x