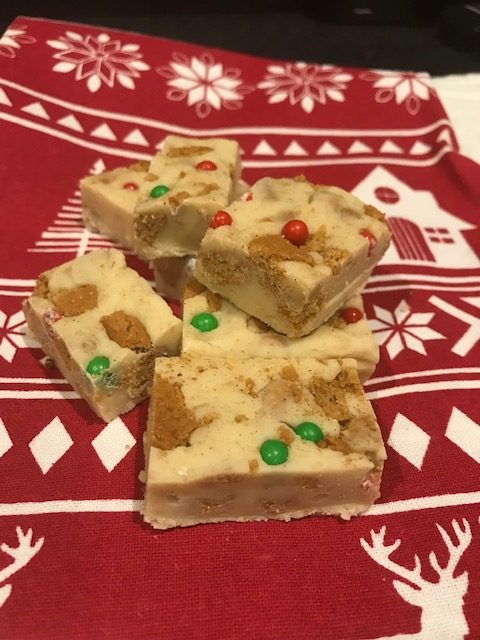 This is one of the easiest fudge recipes so you don't need thermometers but you do need a good strong arm to give the fudge a mix. I used a combination of white chocolate chips from Dr Oetker and some good quality white chocolate bars. Don't use cooking chocolate for this recipe.
I added crushed ginger nut biscuits as my own ginger biscuits are soft in the centre and chewy and I wanted a crispy, crunchy bite to the fudge instead. If you can find small Gingerbread men, they will look really great!
So originally I found a recipe on a condensed milk tin and I've adapted it from there. I added some chocolate filled Christmas sprinkles but equally, you could add lots of other sprinkle designs.
A tip is to have everything ready before you start melting the chocolate so you can work quickly. So crush the ginger nut biscuits into pieces, weigh out the icing sugar, open the tin of condensed milk, measure out the spices and have the vanilla extract ready. I know it all sounds like a lot of prep but you're simply adding these to the mixture and mixing.
Ingredients:
400g white chocolate, broken into pieces
1 tin of condensed milk, 397g weight
1 tsp vanilla extract
100g icing sugar, sieved
100g ginger nut biscuits, broken into pieces
2 tsp ground ginger
1/2 tsp ground nutmeg
1/2 tsp ground cinnamon
Sprinkles – optional
Method:
Line a tin with parchment and make sure to leave some overhanging for easy removal. You can use a brownie tin, a swiss roll tin or an 8″ x 8″ square tin.
Using the bain-marie method, melt the white chocolate. This is simply placing your bowl over a pan of gently simmering water and stirring to melt. Alternatively you can melt in bursts in the microwave, stirring well between each bout. You can add in the combination of spices here. I added mine to the ginger nut pieces but that's up to you.
Add the condensed milk and now engage your muscles and mix the two really well. Add in the vanilla extract and keep mixing to combine everything. Then sieve in the icing sugar and really mix well again. It will be stiff but using a metal spoon is easier. Once everything is mixed together, add in about half of the ginger nut biscuits and mix again.
Then transfer to the prepared tin and smooth out with the back of a spoon. Gently press in the remainder of the ginger nut pieces and if you like, add some Christmas sprinkles and press them in too. Pop your tray into the fridge for at least 2 hours. Take it out and slice into your chosen size and then put back into the fridge to completely set.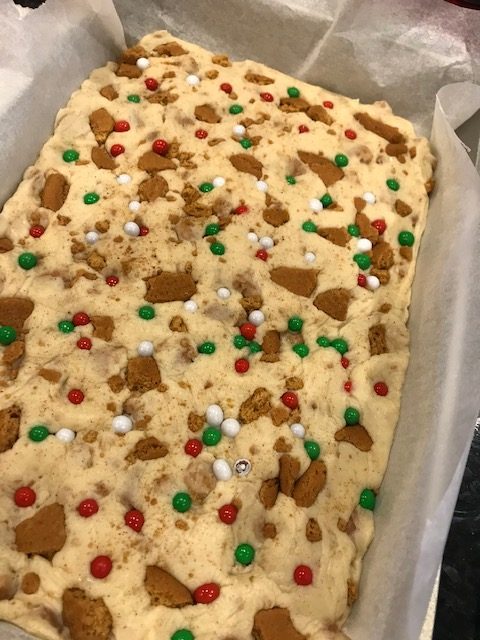 This fudge will keep in the fridge for up to 3 weeks in an airtight container and is perfect to give as gifts in cellophane bags, tied with pretty ribbon. Remember to place a small piece of parchment between each piece of fudge.
Here's a quick video on how to make the fudge:
No baking but great fun and made with lots of love
Soraya x