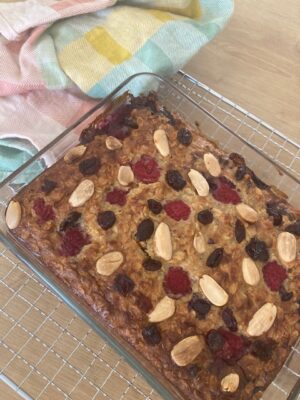 Using coconut milk in this recipe gives the baked oats the most amazing creamy taste! Coconut Milk is full of healthy fats and combined with your favourite berries which are packed with antioxidants and only a bit of pure maple or date syrup, you have a fantastic way to use up berries and a great make ahead breakfast / snack for a few days. This one bowl recipe will soon become a family favourite and you can adapt it depending on what you have in the fridge!
I used Gluten Free Oats but you can use regular ones if you want. I love the combination of vanilla and almond extracts and I added a teaspoon of cinnamon for anti inflammatory properties but that's optional too. If you are vegan or can't tolerate eggs, then swap the 2 eggs for flaxseed eggs (info below in the recipe). Remember if you're coeliac, to use GF baking powder too.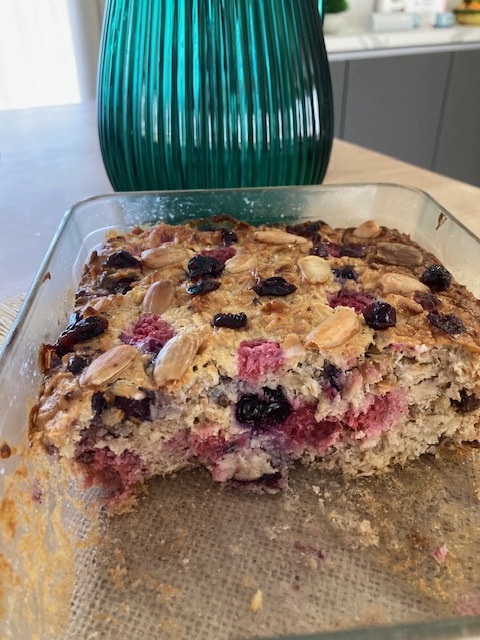 Ingredients:
2 eggs (Flax Seed – 2 tbsp Flaxseed mixed with 6 tbsp water. Let sit for 10 mins then use as normal)
50g maple syrup
1 tin light coconut milk – 400ml
1 tbsp vanilla extract
1 tsp almond extract
160g oats (GF if needed)
20g desiccated coconut
1 tsp baking powder (GF if needed)
1 tsp cinnamon
1/4 tsp salt
90g strawberries, diced
110g blueberries
60g raspberries
30g almonds (optional – or mix of pecans, walnuts)
20g desiccated coconut (optional)
Method:
Preheat oven to 175C (Fan) and grease a 23cm x 23cm (approx) with coconut oil. Set aside.
In a large bowl, add the wet ingredients – eggs, maple syrup, coconut milk, vanilla and almond extracts and whisk together.
Next add in the dry ingredients – oats, coconut, baking powder, cinnamon and salt and mix to combine everything.
Then add in 3/4 of your choice of mixed berries and stir through. Pour this mixture into the prepared dish and top with the remaining quarter of berries. Sprinkle the almonds and coconut on top (if using).
Bake for 35 – 40 minutes until the edges are a golden brown and the centre is set. Check with a toothpick which should come out clean. Remove from the oven and let cool for 10 minutes. Cut into slices and serve with some plant yoghurt and extra fresh berries. Alternatively, drizzle a little maple syrup on top.
Once completely cold, this Baked Oats recipe will keep in the fridge in an airtight container for up to 5 days. It also freezes well.
Find lots more Baked Oats recipes in my Simple and Healthy Recipe Book – https://www.cozebakes.com/product/new-simple-and-healthy-recipe-book/
Baked Oats are very easy to make, use very little equipment and are a great way to get ahead and help meal plan for a few days. They are easy to transport so work well for school or work lunches or snacks and the oats will keep you full for longer.
Enjoy! If you make this recipe, I would love to hear what you think. Just pop a comment below the recipe.
Soraya x